Written by
Adam Fonsecha S.S.
Have you wrapped the space necessities data? If you have, the next step is choosing the building style that you want to apply. Choosing the building style is absolutely essential, which decides the nuance and façade of your future home. Fortunately, this article is here to strengthen your knowledge about facts, definitions, styles that are available at Emporio Architect, and how to choose the perfect style for your home.
Classic Architecture Style
Classic architecture is a building style, and technique of designing that refers to the classic Greek time, used in the ancient Greece Period under the Roman Empire. The classic architecture is generally identical to its luxuriousness, elegance, and majestic display with tall ceilings, towering pillars, and dominated with white color finishes. As time passes by, classic architecture develops into a whole lot more style variations. Here are a few samples of Emporio Architect's classic façade displays.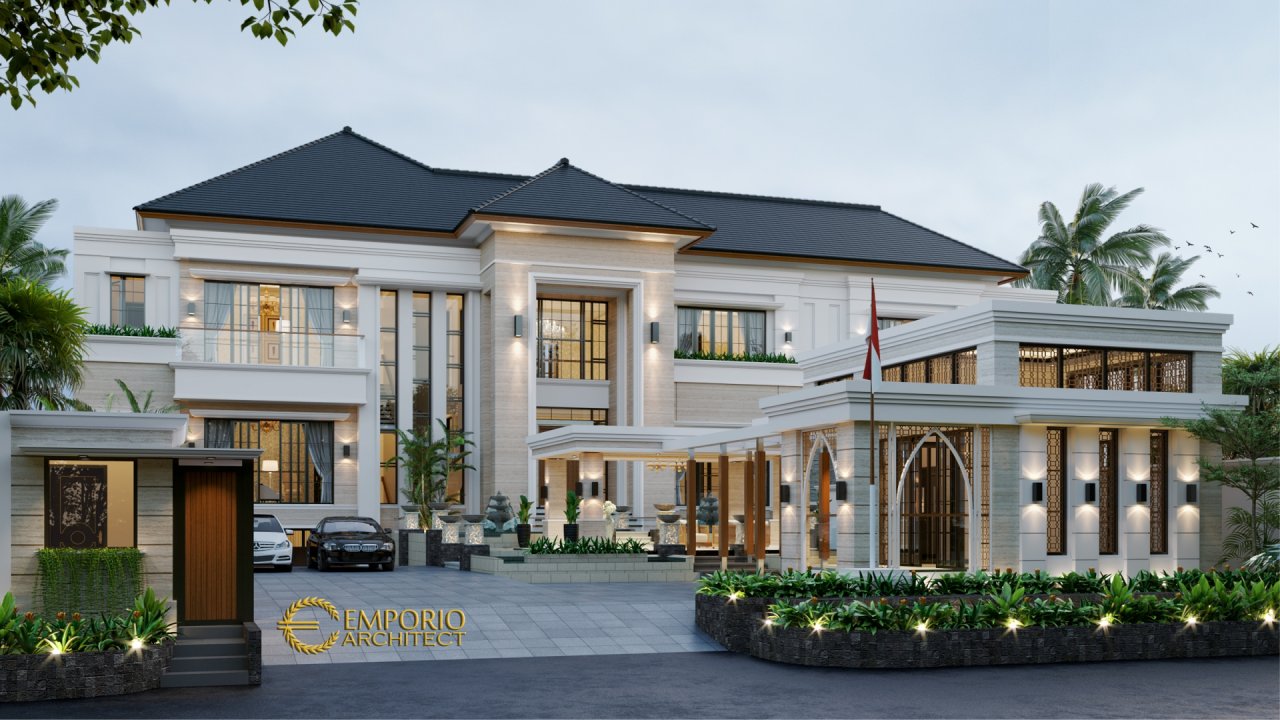 Emporio Architect's design often refers to classic styles with a gorgeous modern display and an all-white look on the building's exterior. The pyramid-shaped roof and natural stone material, along with neat and geometrical shapes, resulted in a classic-modern architectural style that fits those who admire luxuriousness, lavishness, and modernism.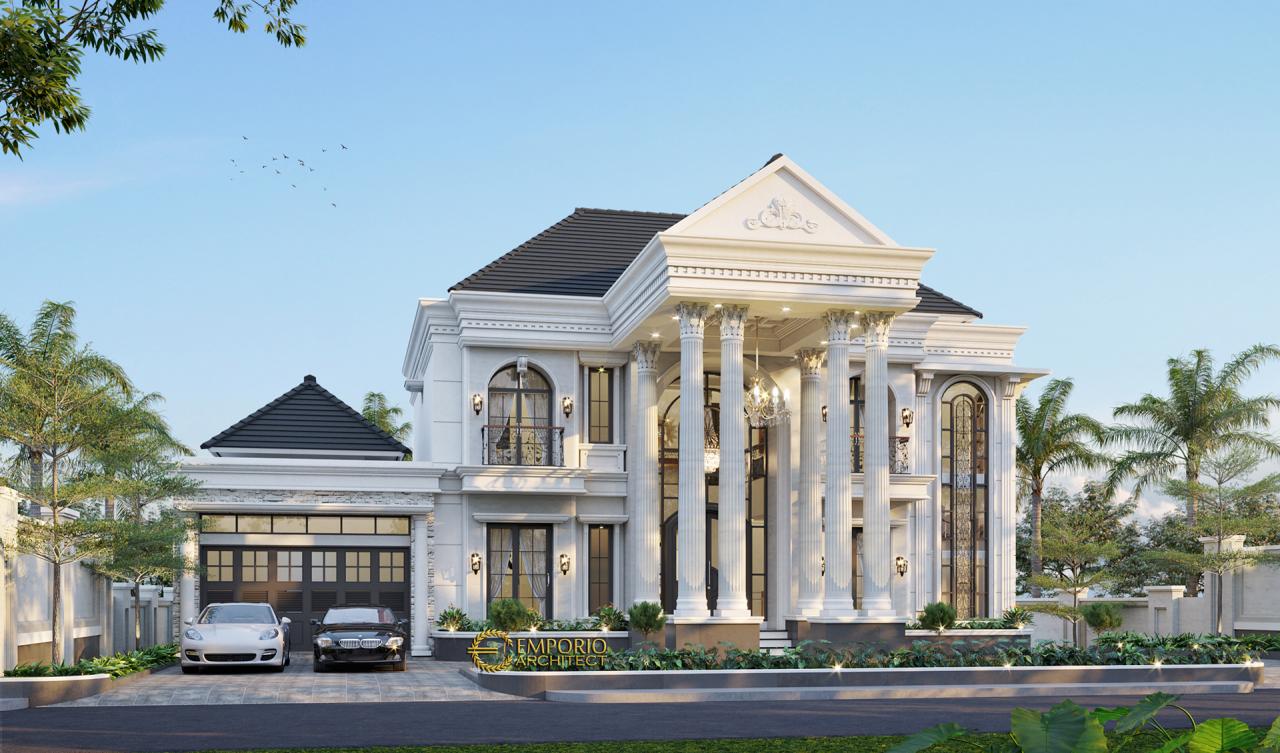 Speaking of classic architecture style, buildings that have towering pillars with a triangular gable wall near the roof is obviously a character of classic Greek architecture style. With ornamentations in several points, the classic Greek style is commonly used on Emporio Architect's creations due to the fact that it has the capability to display such majestic and classy values.
Classic European Style Featuring Lots of Windows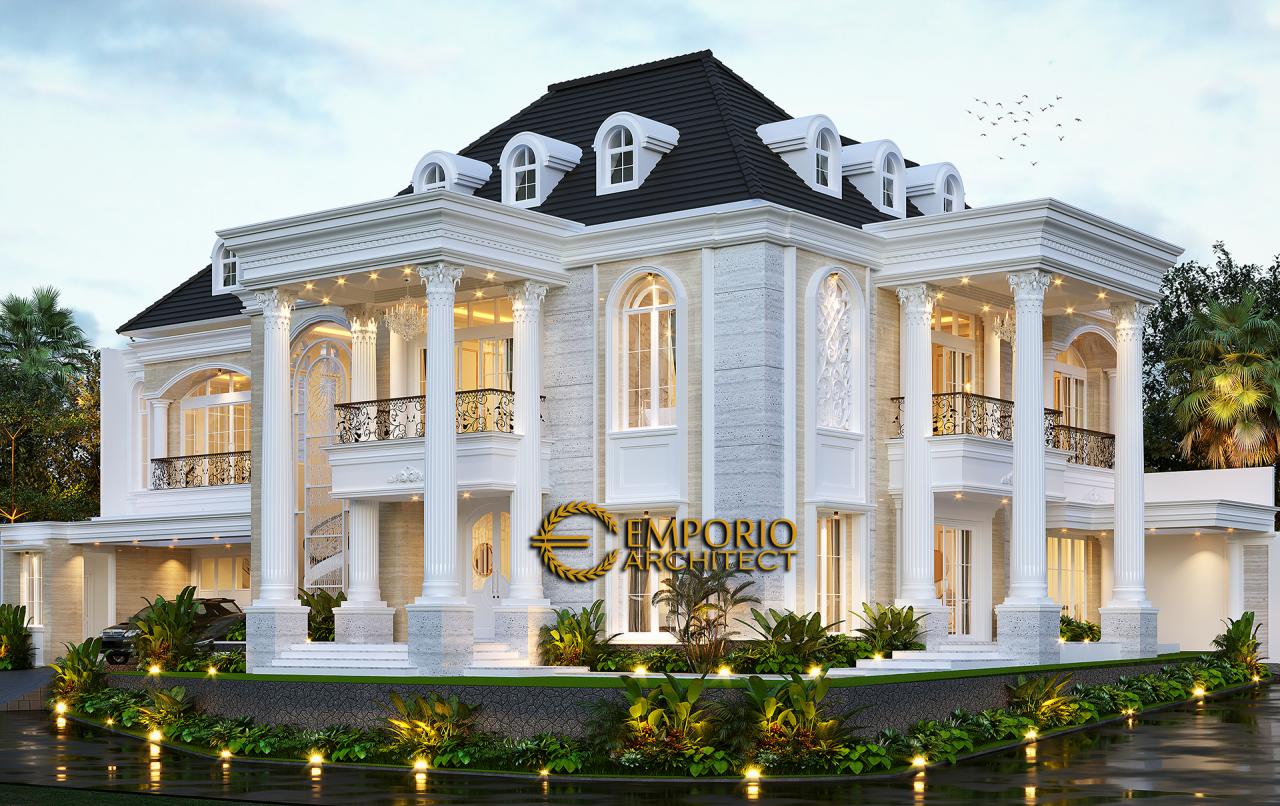 Houses with a classic European style that has many windows are, in fact, hugely popular as of late. The row of pillars, openings on the building's body, along with the use of a mansard roof that gives room for an attic with dormers, make this classic European style a new primadonna because of the beauty of its façade and the more effective spatial layout.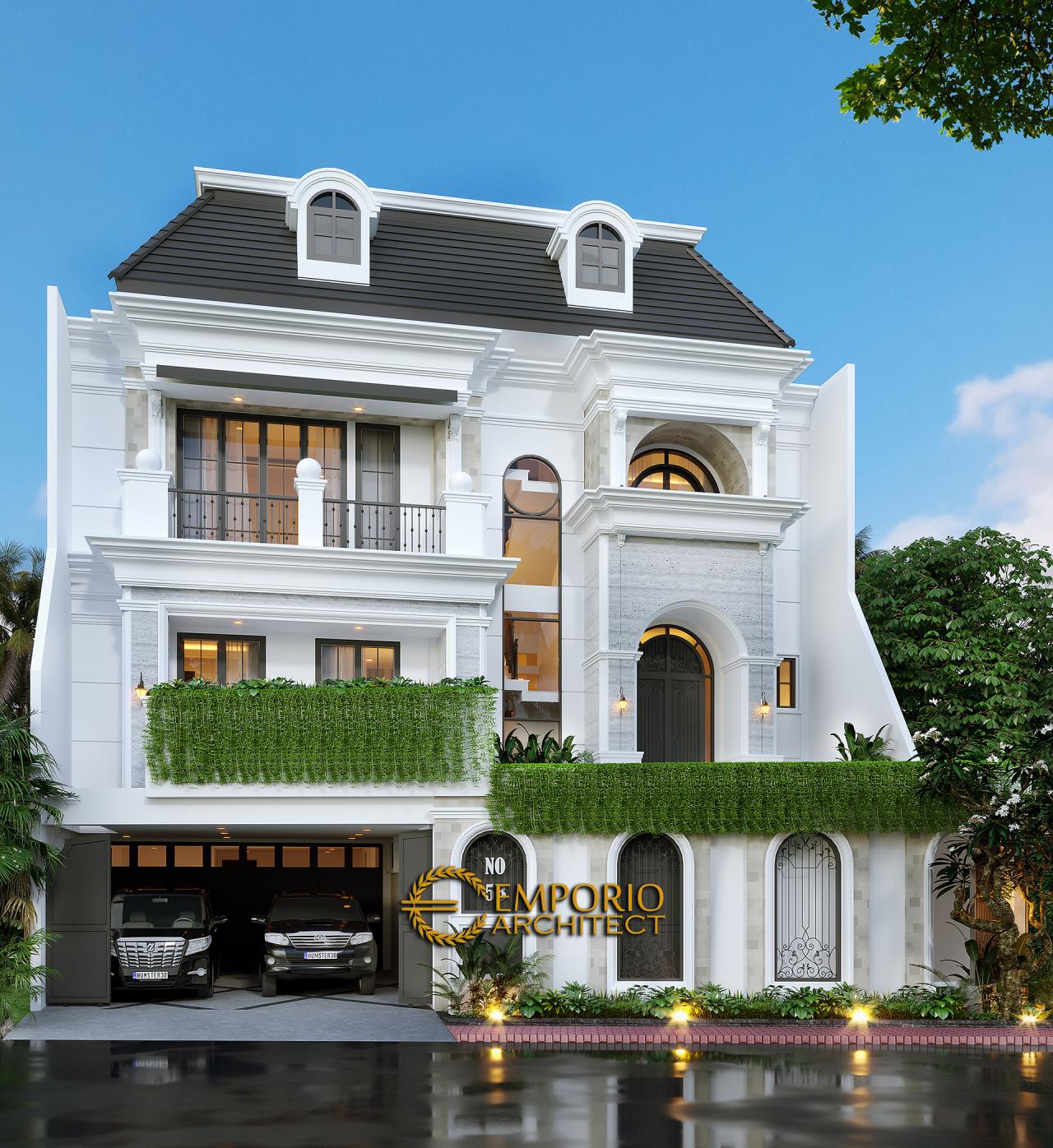 The classic Mediterranean architecture style is an inheritance of the original classic that is also worldly popular. With the curved jambs and clean-looking display with minimum ornamentations, Emporio Architect's classic Mediterranean style is guaranteed to create a significantly chic display for your house.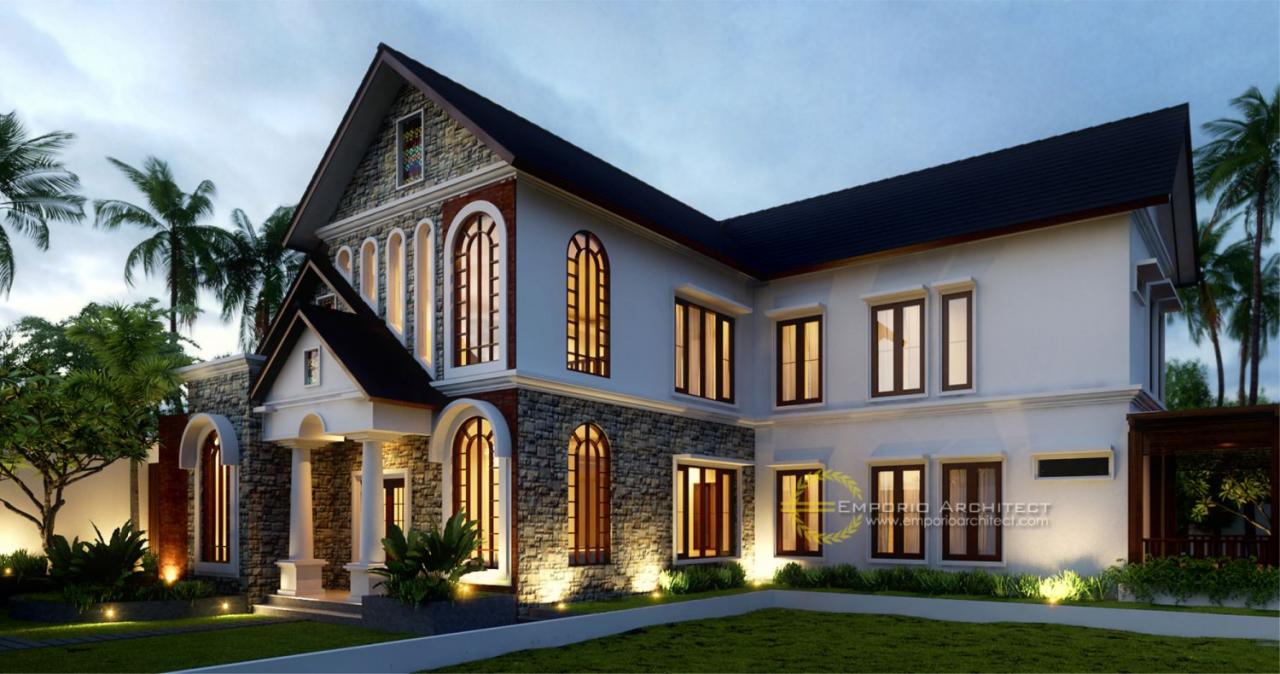 For those who admire classic architecture featuring stone elements on the exterior, Emporio Architect's classic European rural style should be among your consideration. With pillars, curved jambs, and natural stone material, this classic and vintage style is going to take you on an adventure to the beautiful European rural.
Classic Kingdom-Like Style of Elegance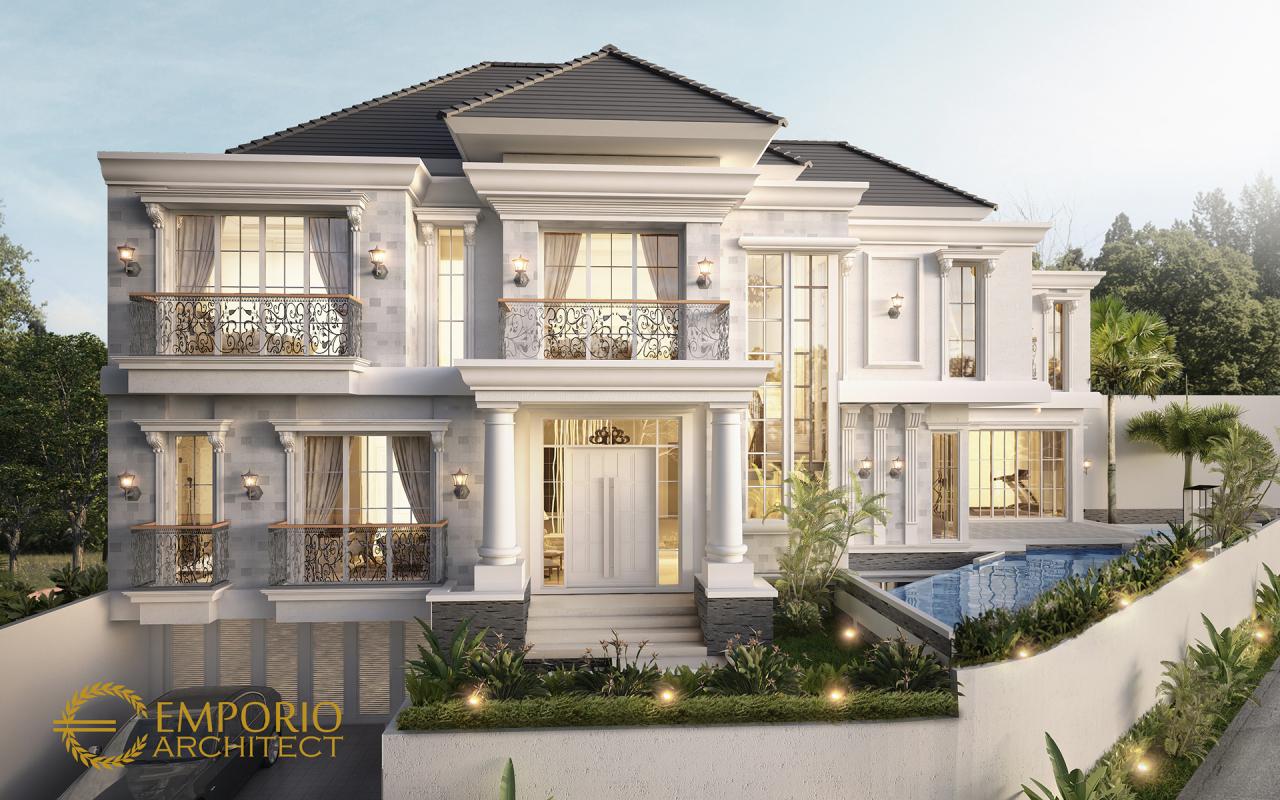 If you're more into a luxurious, chic, feminine, and barbie-looking house, this classic and elegant style house should be a definite alternative. The application of soft colors on the exterior, pillars, wall sconces, wrought steel stair railing clearly create an elegant classic Kingdom-like appearance on the display.
In addition to those classic styles above, there are still other classic architecture style variations. The façade display on the house can also be customized by the architect prior to the client's request.



Modern Architecture Style
Modern architecture refers to an architectural style that was born in the 20th century. The modern architecture style is identical with geometrical shapes, firm lines, the use of natural, factory-made, and exposed materials with many openings. Modern architecture shows freedom and limitless creativity that makes this style has no clear boundaries, which results in many modern style variations. Here are a few samples of Emporio Architect's modern architecture.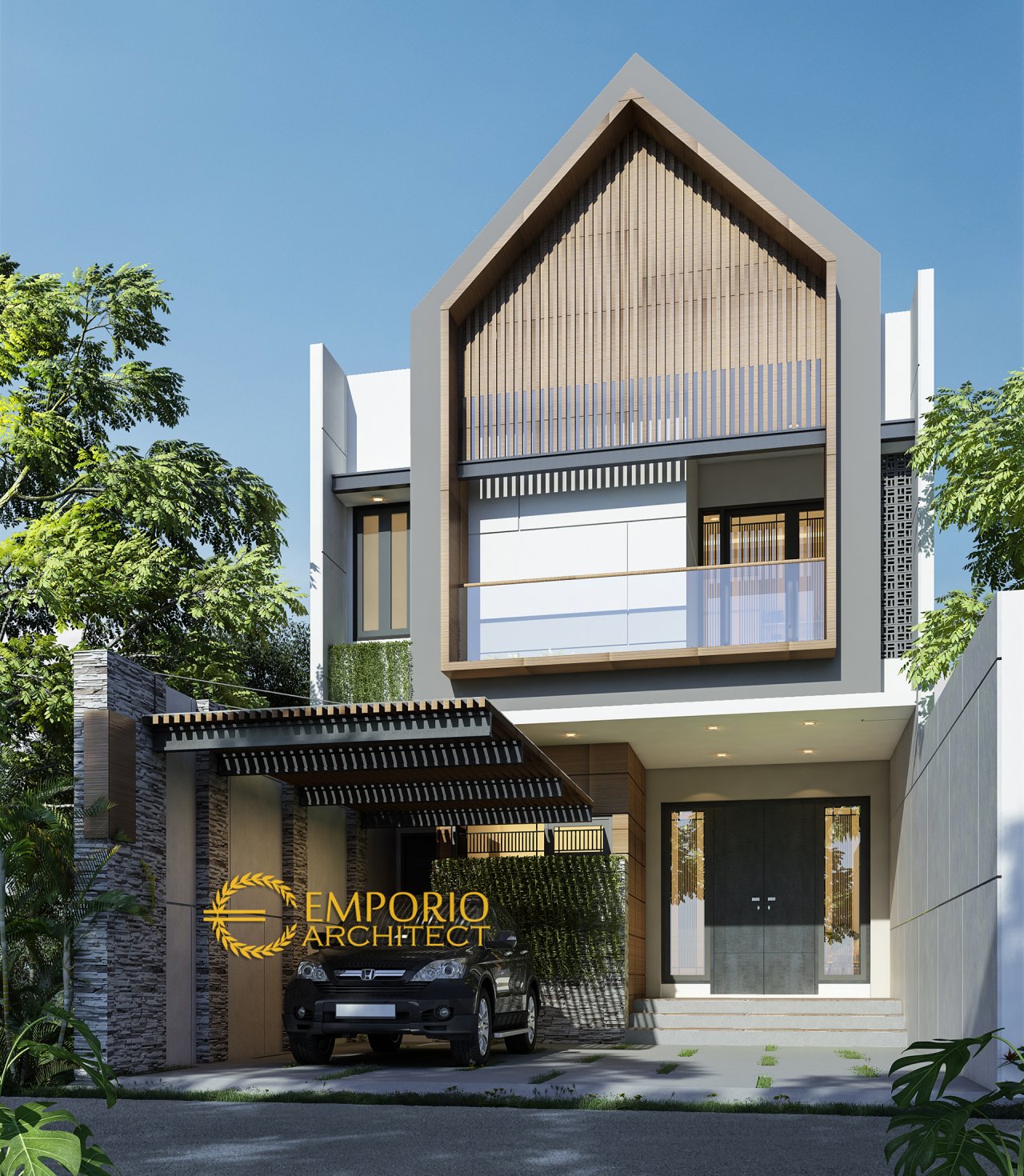 Modern minimalist architecture is globally renowned, especially if the property is built in a residential or big city with limited land size. With a concreted gable roof, the display simplicity with glass, natural stone, and wooden grill materials makes the modern minimalist style suitable for those who have purchased small land and wanted a lower-budget house that still offers elegance.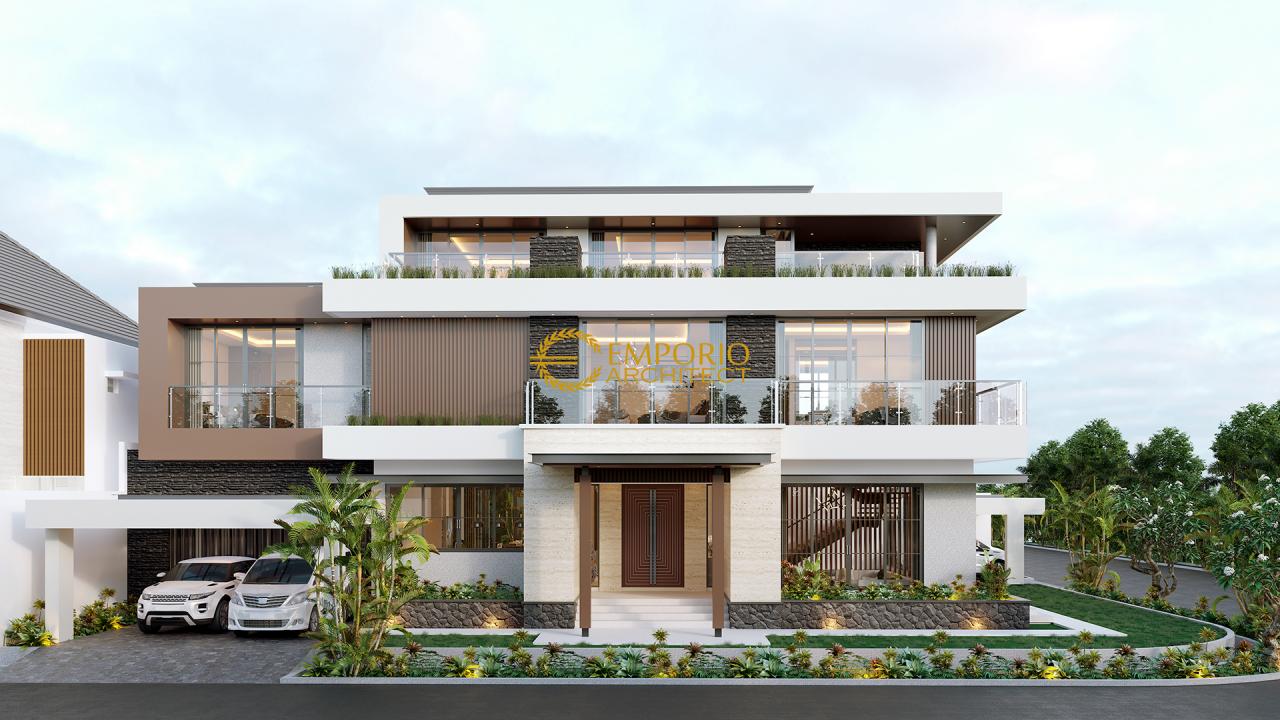 Modern architecture can be easily made super luxurious, especially if you have more budget to spend and more land to build on. It combines several materials, including natural stone, wooden grill, steel, and glass, to ensure the 3-4 story building to have a more luxurious, classy, and magnificent display.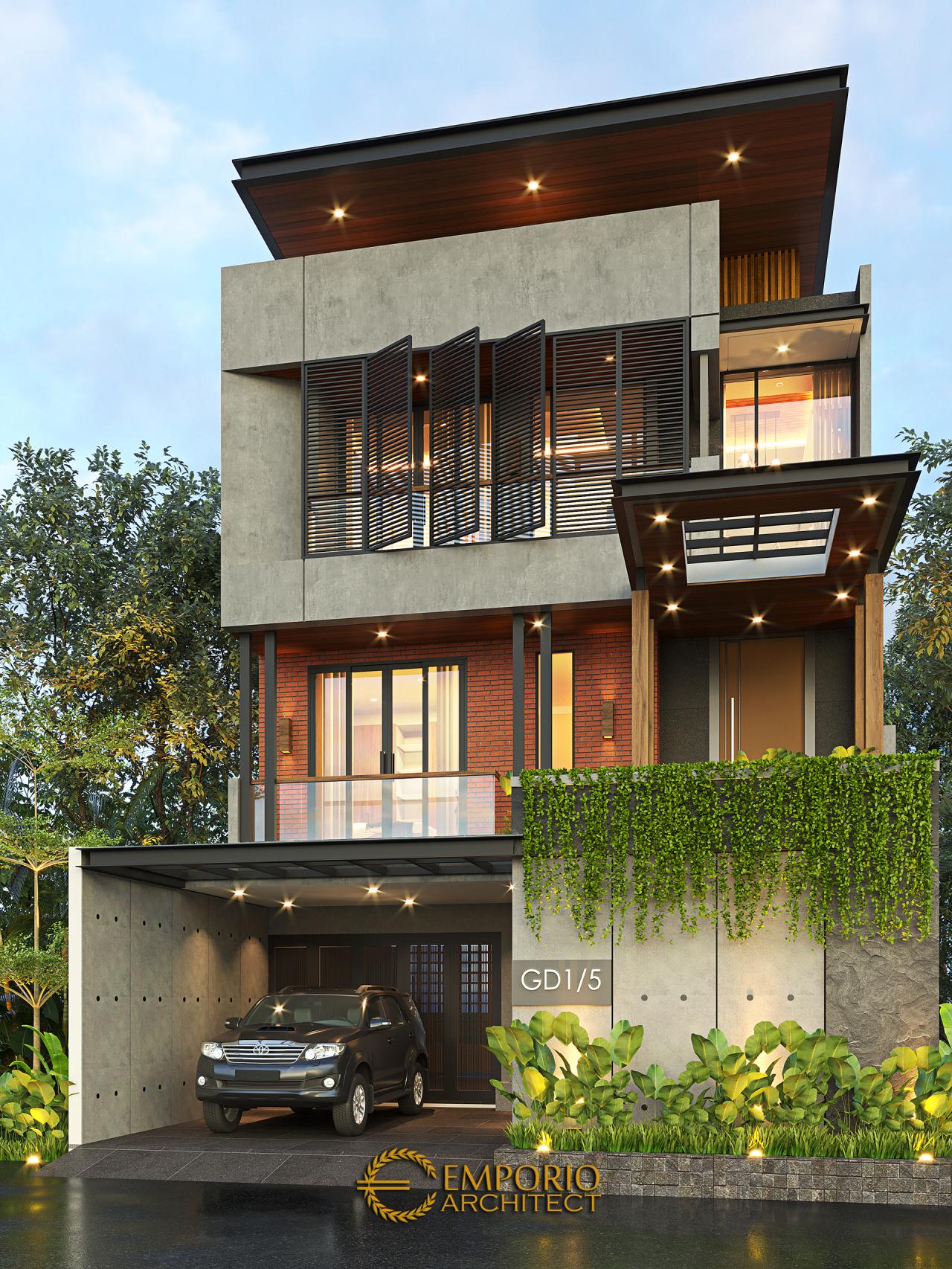 Houses with a modern industrial style have a distinctive look by exposing bricks, concrete, steel, glass, and wood materials. With these exposed materials, the house can be seen to show its distinctive modern industrial and to be more millennials, raw, aesthetics, luxurious, and inexpensive finishing process.
Modern magnificence with tall pillars
Suppose you feel that modern luxuriousness isn't enough. Choosing a modern style that protrudes towering pillars can be an alternative. By adding tall pillars to the roof, along with the use of natural stone, wood, glass, and steel materials, and as well as many openings, modern style with pillars can make the display even more magnificent.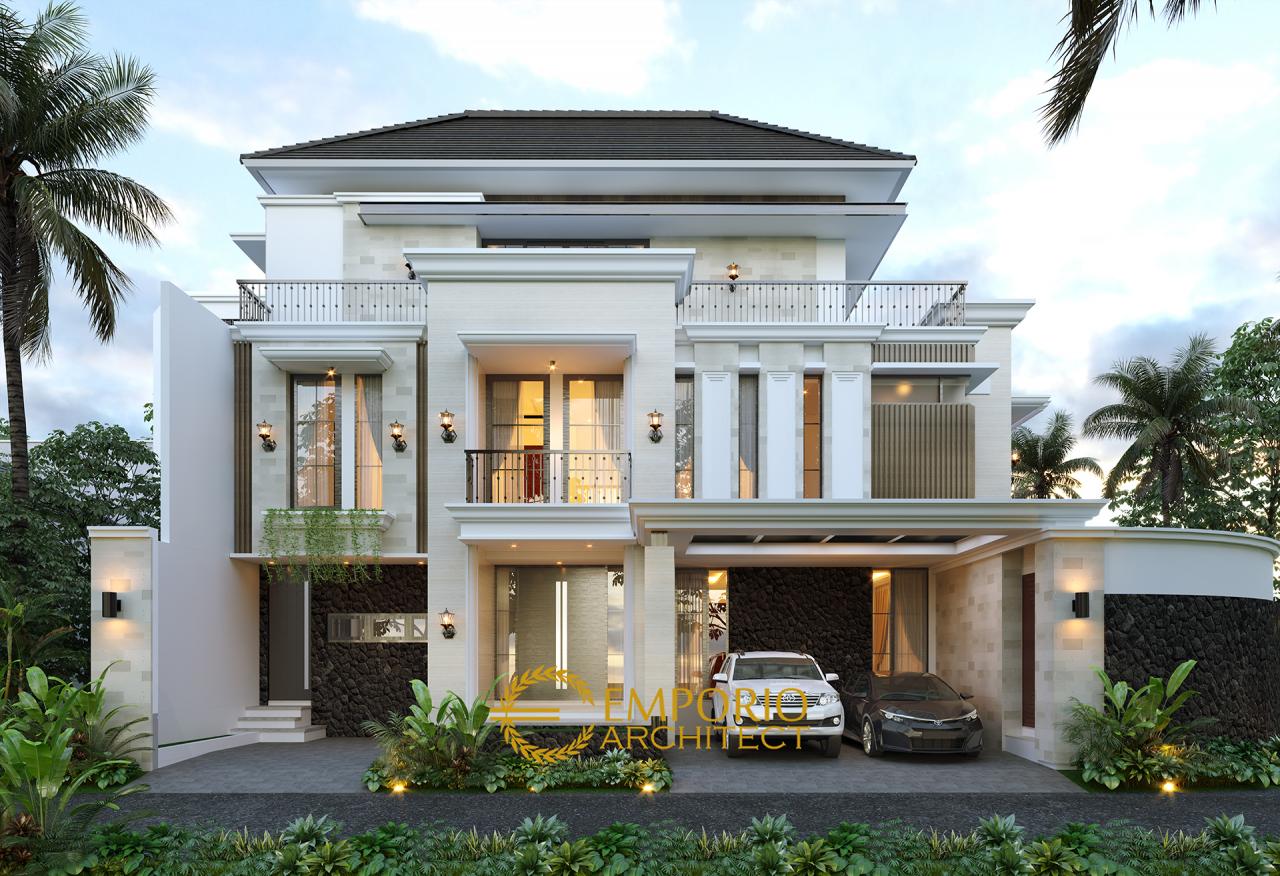 If you're looking for a modern style display with a more elegant nuance, you can consider a modern classic façade to apply. By applying brighter and white dominant color, along with rails and classic wall sconces, Emporio Architect's modern classic style is guaranteed to make a softer and more attractive modern house for your future home.
Modern Vintage European Rural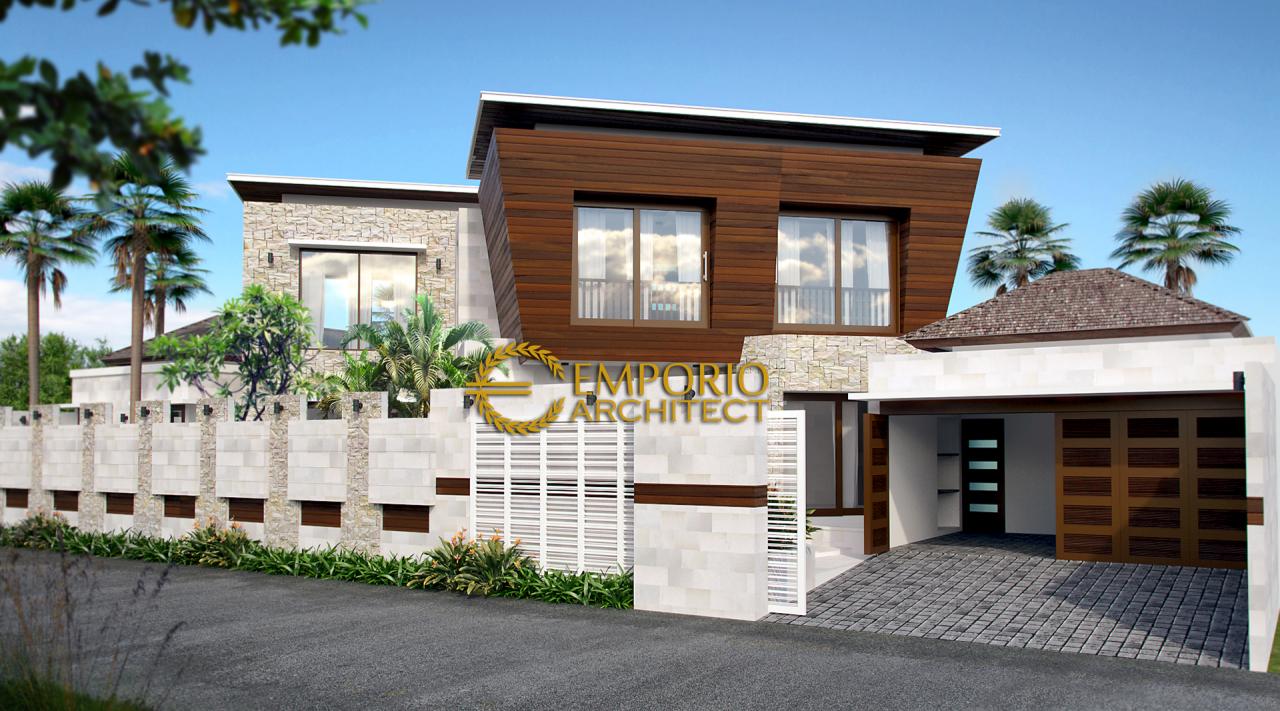 Modern architecture can also appear to be unique with vintage touches of European rural. With natural stone and other stone materials combined with wood, modern vintage European rural style houses feel differently modern.
Actually, there are other modern styles that came from the creativity of the architect.



Bali-Villa Architecture Style
Bali-Villa architecture refers to modified and acculturated architecture style based on the values of traditional Balinese architecture, which is modernized with the distinctive Bali's tropical villa style. The characteristic of Bali-Villa style is shown by many wide openings from the ground up to the ceiling, the use of natural materials, earthy-tone color, Balinese ornaments, and wall sconces. Here are a few samples of Emporio Architect's Bali-Villa house designs.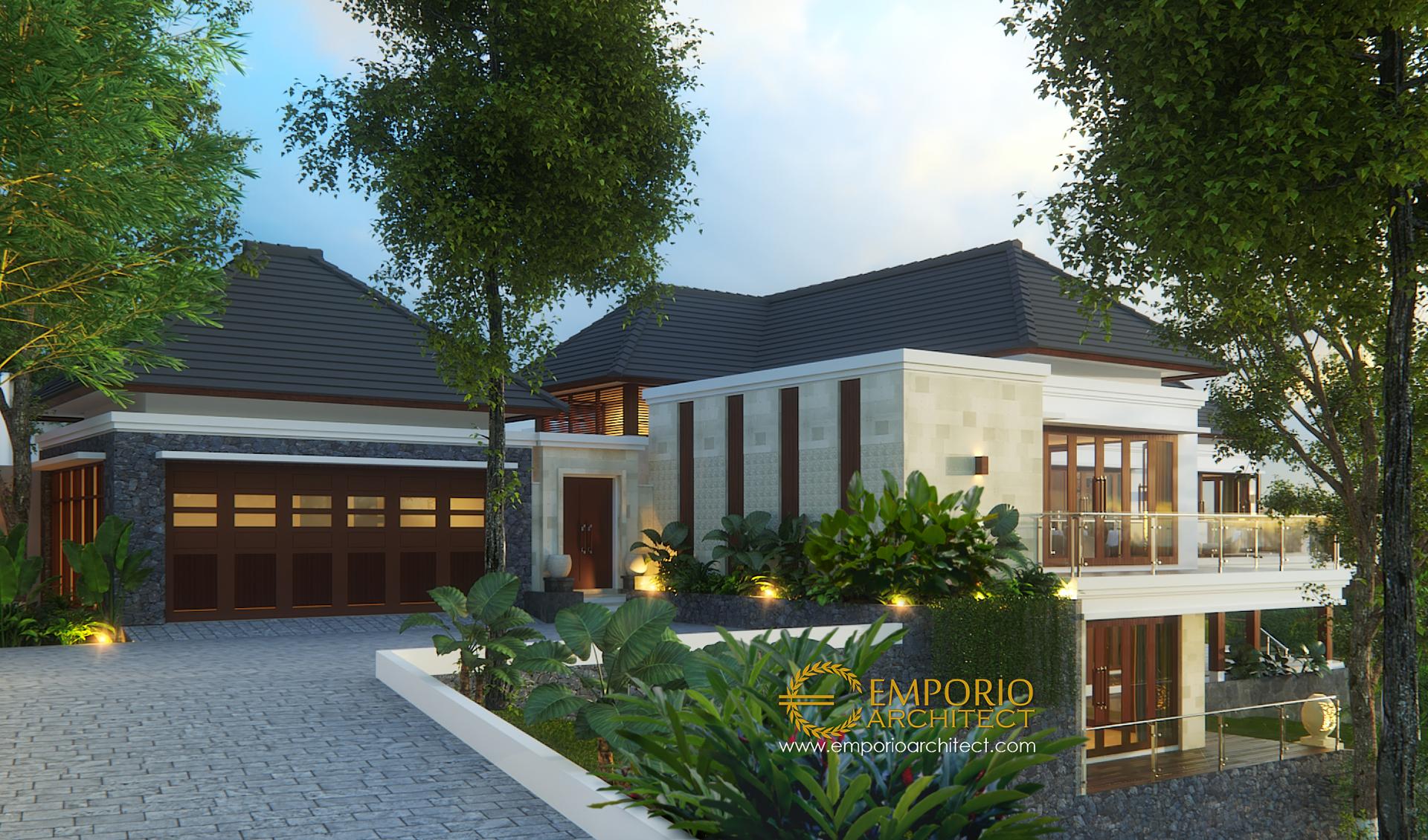 Emporio Architect's Bali-Villa architecture has many style variations, which include a simple and lower budget Bali-Villa minimalist that uses natural stone materials, such as andesite, sandstone, Palimanan, and other materials with minimum ornamentations, which suits those who admire the simplicity and lower-budget property.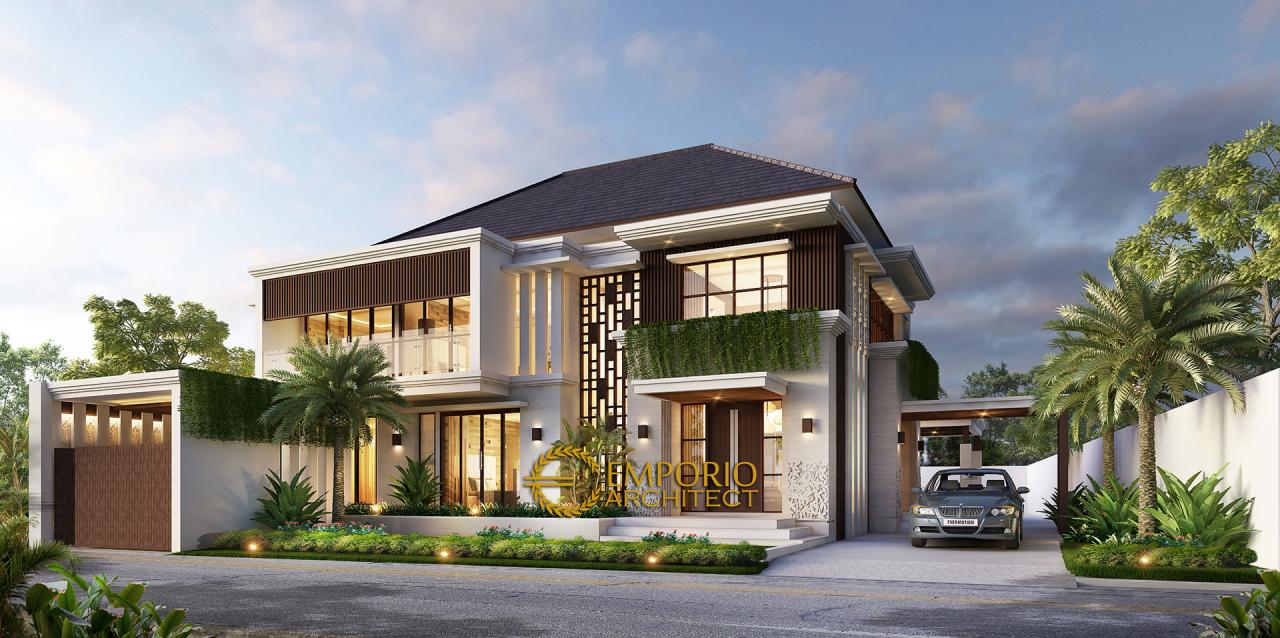 Another variation of Bali-Villa style is a modern Bali-Villa that offers a more modern display, luxuriousness, and millennials version of Bali-Villa. As stated in its name, the modern Bali-Villa is the combination of modern luxury and Balinese Villa style with a pyramid-shaped roof, the use of natural materials with accents and ornamentations that truly make the most beautiful tropical Balinese Villa ambiance.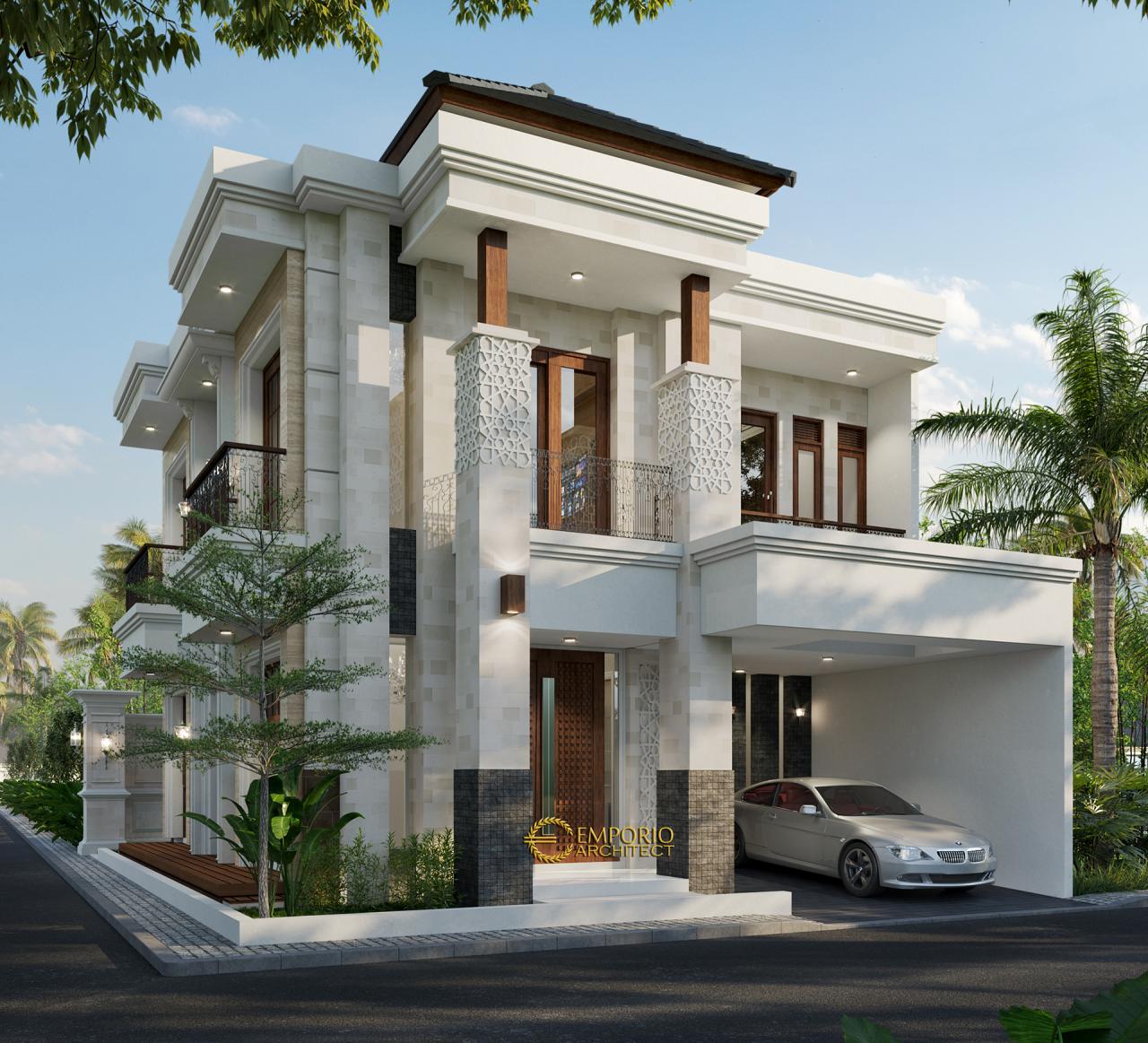 Although the request can be considered minimalistic, Emporio Architect also creates a Classic Bali-Villa style variation. This style is dominated by a white-color façade with wrought steel stair railings. Classic Bali-Villa style is suitable for those who love a more elegant version of Bali-Villa style.
Bali-Villa nuance with many pillars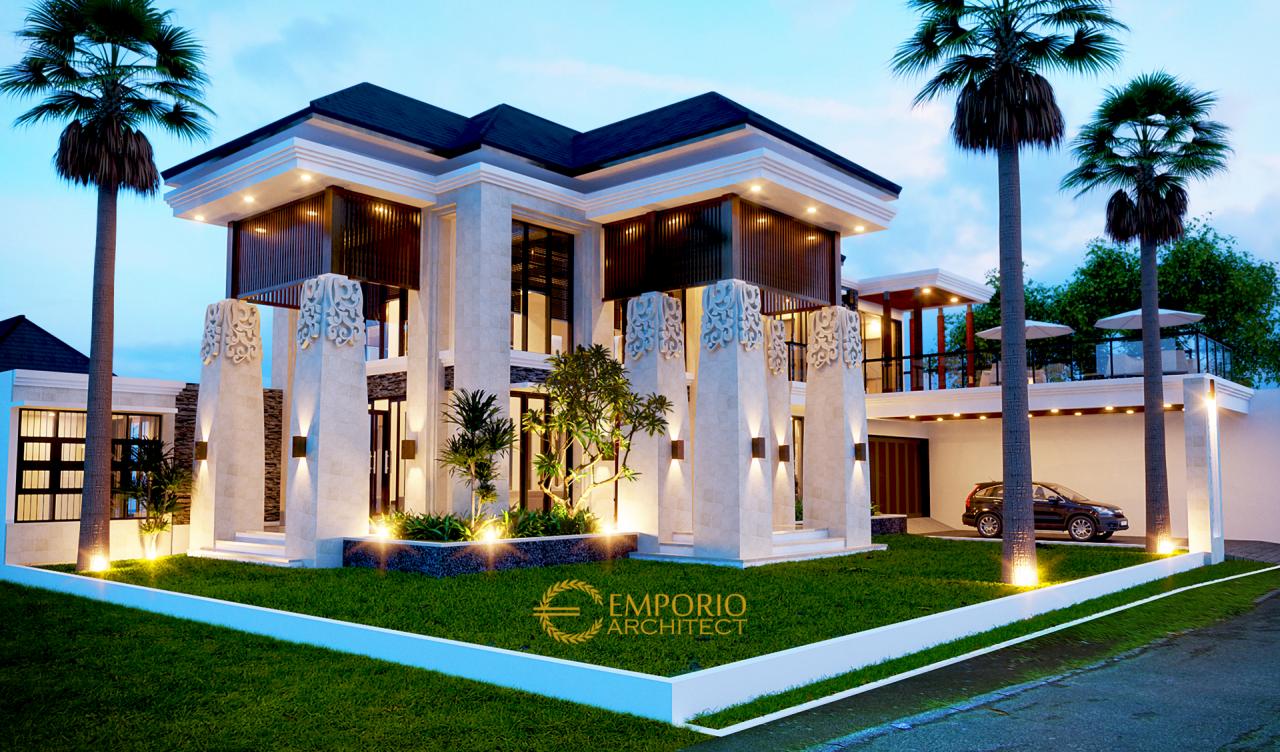 One of the most attractive aspects of a Bali-Villa architecture style is the beauty of the façade because of the accents, ornamentations, lighting, large pillars with wooden grills, and its pyramid roof, making the display feels more luxurious and magnificent with the vibes of vacation.
Vintage Bali-Villa with stone accents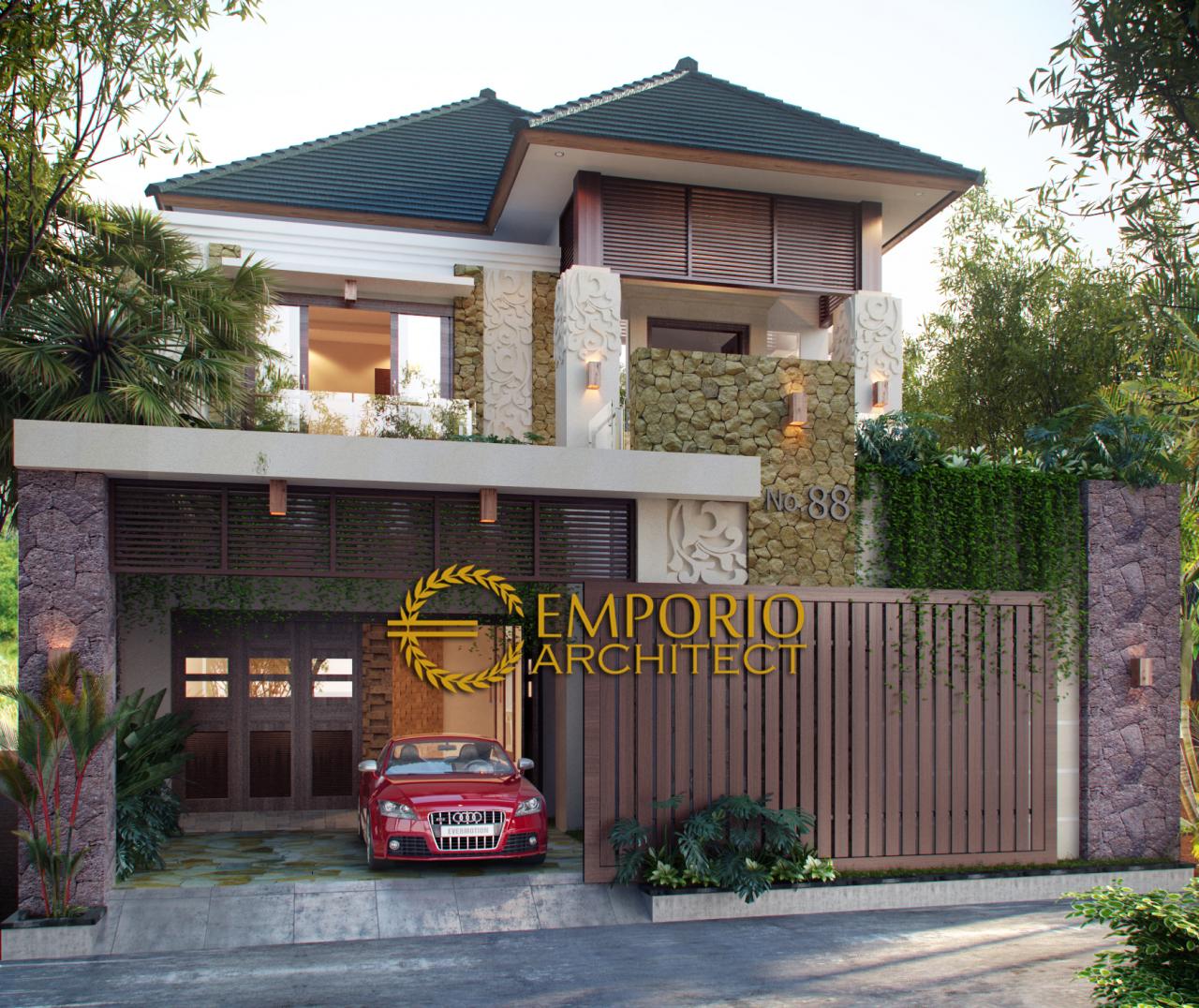 There's also a Bali-Villa architecture style displaying many stone materials on the exterior with touches of vintage ambiance. The style combines a variety of multi-colors natural stones, which creates a unique and vintage stone-accented house. This type of house suits those who admire Balinese villa architecture with additions of natural and unique impressions.
Other than the samples above, Emporio Architect is still able to create other Bali-Villa architecture for references.



Mediterranean Architecture Style
Mediterranean architecture is a style that is carried by Spanish immigrants to the United States of America. It's quite difficult to tell the origin of the Mediterranean style since the style itself is based on Mediterranean regions that are covered by 3 continents, which are Europe, Africa, and Western Asia. The typical Mediterranean style is shown by thicker walls level, smaller windows with curved jambs, the use of natural materials, pole on the porch and balcony equipped with a garden and swimming pool, as well as neutrally bright colors. Here are a few samples of Emporio Architect's Mediterranean style variations.
The luxurious Mediterranean with ornamentations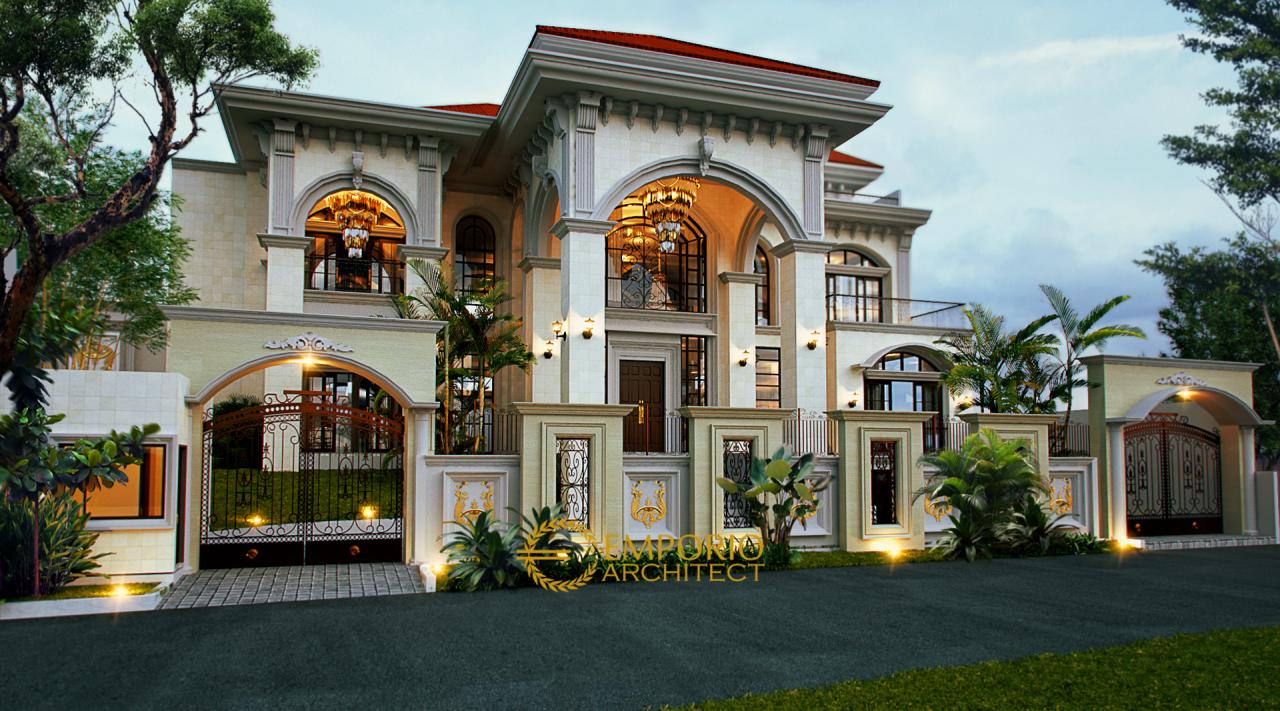 Emporio Architect's luxurious Mediterranean architecture with ornamentations is one of the options for those who admire the magnificence and classy kingdom-like houses. The pillars, wall ornaments, chandelier, wall sconces, wrought steel stair railing, the use of natural materials, curved jambs, and bright earthy-tone colors, making this luxurious Mediterranean style with ornamentations should be the main choice for those who admire glamours.
The Classic Mediterranean Elegance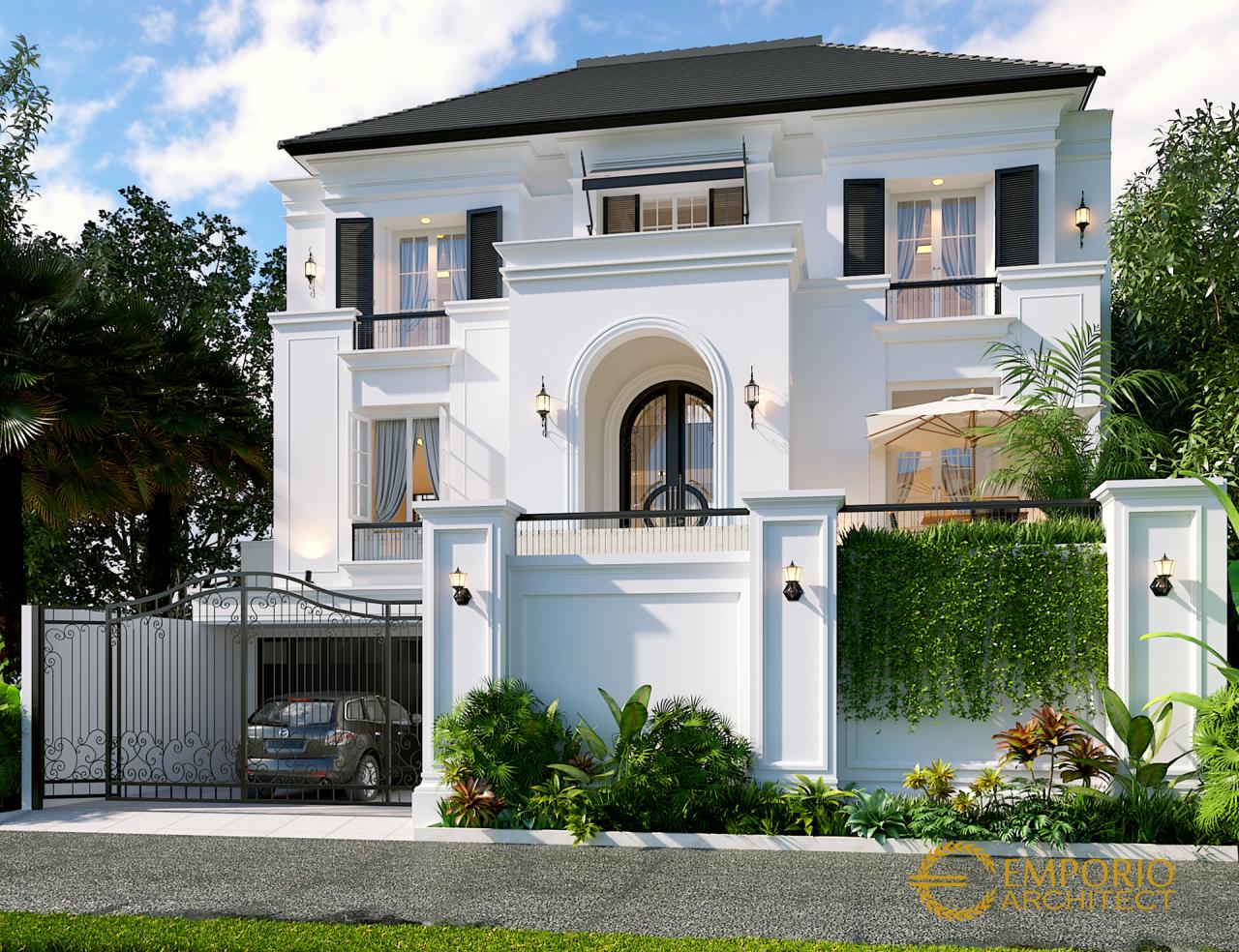 If you prefer the luxuriousness and exclusivity of Mediterranean style but still want a more elegant and simple display, Emporio Architect's classic Mediterranean style can be suitable. With its neat and simple façade featuring white nuance, classic wall sconces, wrought steel stair railing, and curved jambs, the elegant classic Mediterranean suits well to be used as the façade for mid-city houses.
Vintage Mediterranean with stone accents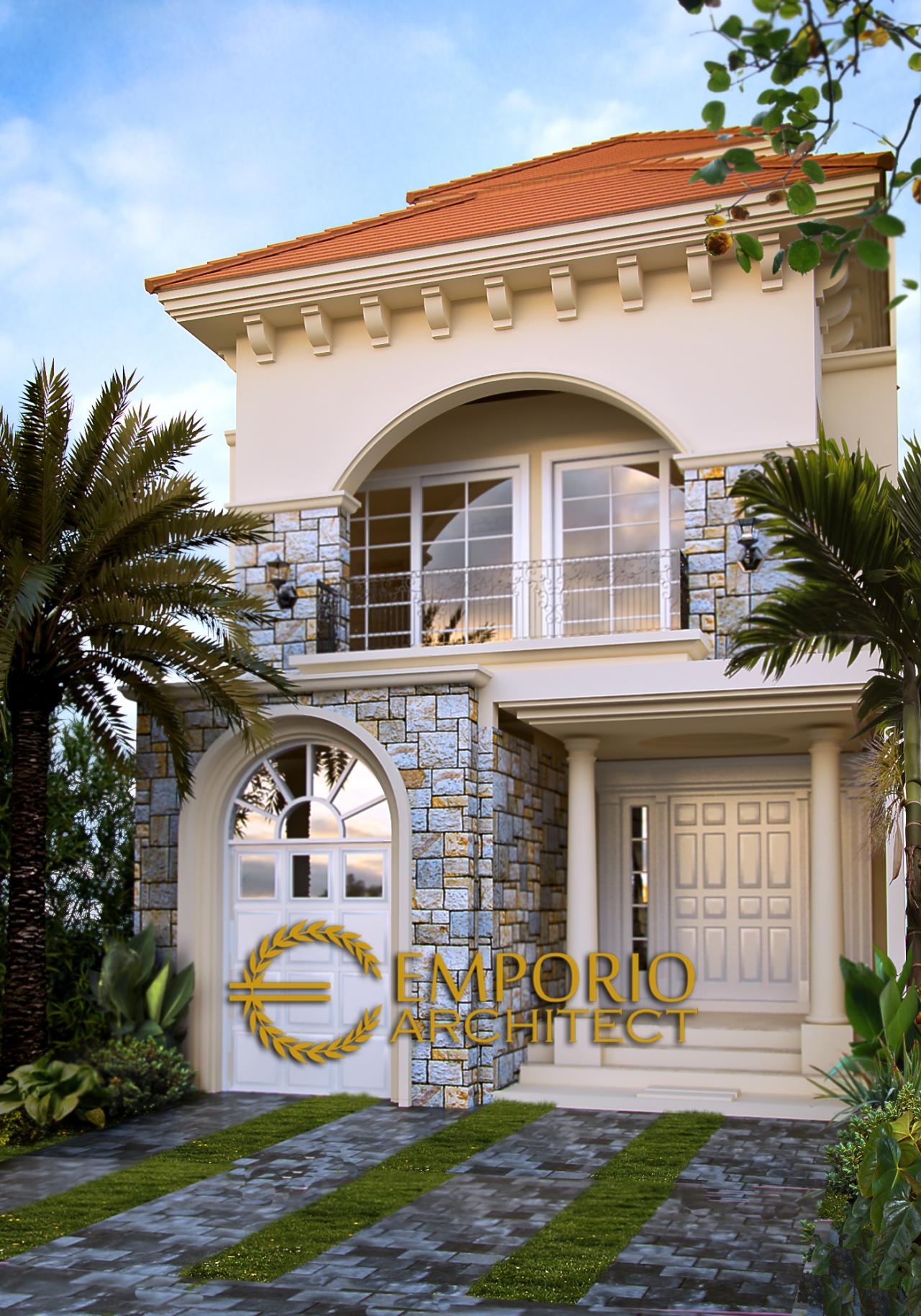 If you prefer a house that displays natural stone accents on the façade and vintage European rural nuance, this vintage Mediterranean style with stone accents on the interior, as well as the pillars on the porch and balcony, can be an inspiration.
In addition, Emporio Architect still has other tropical Mediterranean styles that can be used for your reference. Here are a few other samples.



Other Architecture styles
In addition to the tropical classic, modern, Bali-Villa and Mediterranean styles, Emporio Architect, as a professional and trusted architecture consultant, also offers other architecture style variations. Here are the samples of other architecture styles at Emporio Architect.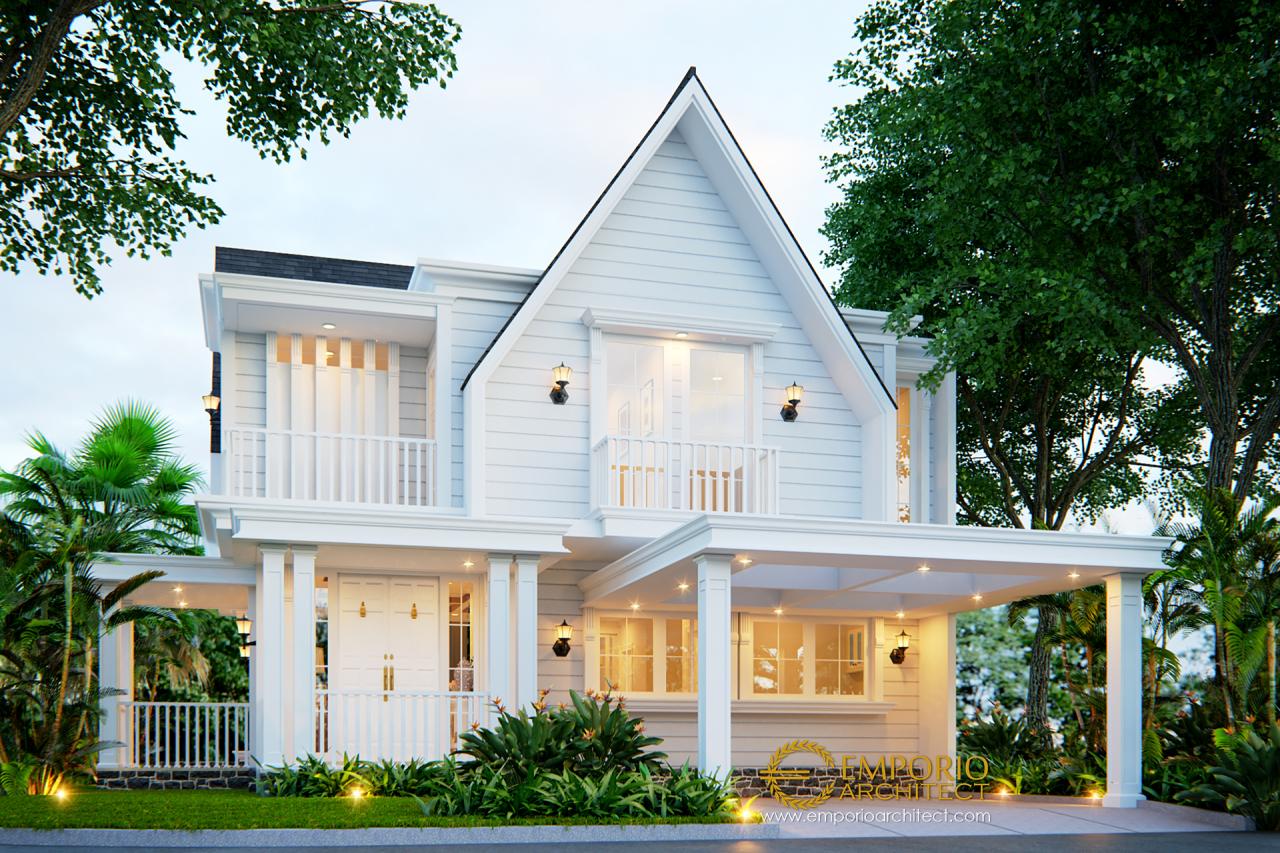 Emporio Architect's American architecture style refers to the typical American Craftsman Bungalow type. With the dominant handicraft elements, such as wood, stone, and bricks in white color and triangular shape, along with many openings and balconies, these American-style houses are quite chic, unique, elegant, and also luxurious.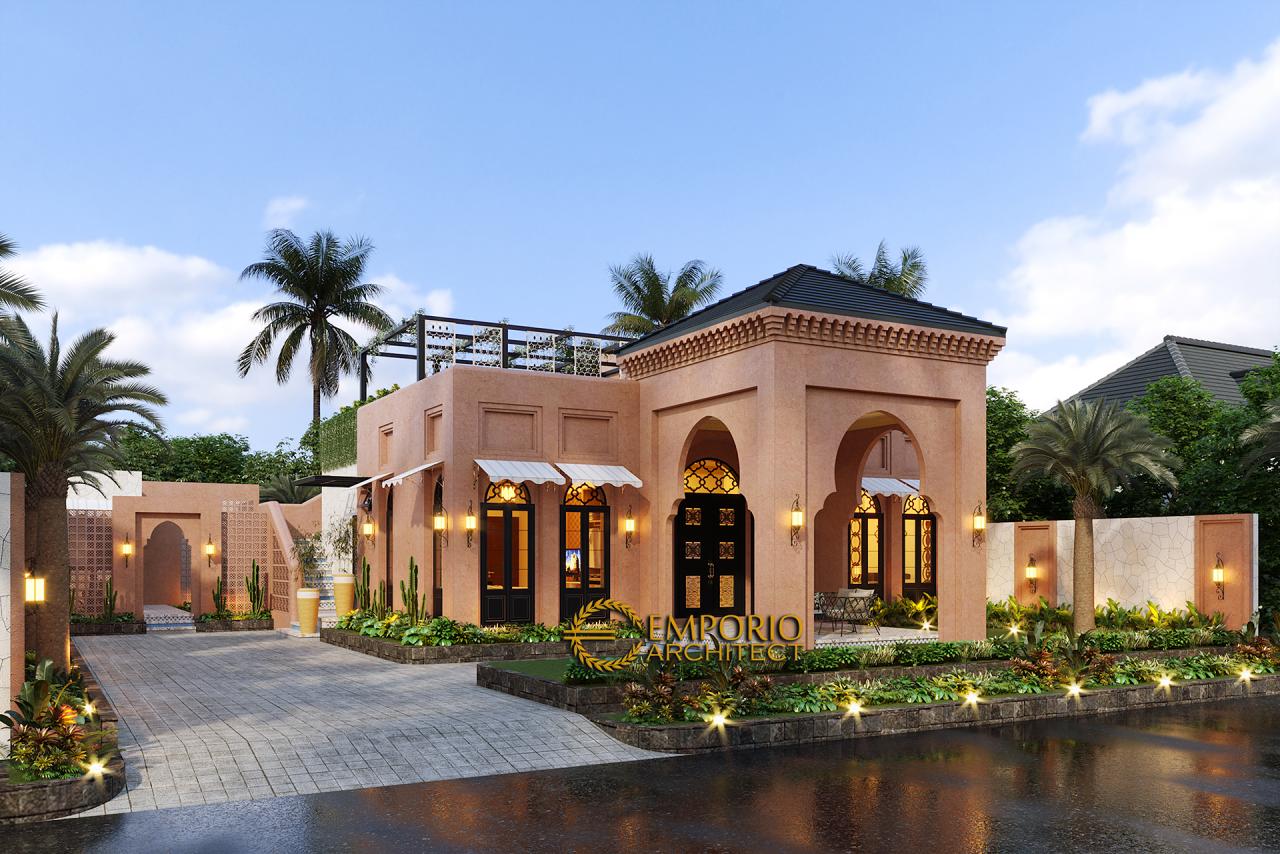 There's also a Moroccan style variation influenced by Islamic culture by the distinctive use of zellij, which is bright mosaic tiles with flower motifs, plants, and geometrical patterns on the floors, walls, and furniture. Emporio Architect's Moroccan style often comes with a yard and an open square-shaped rooftop, jambs and curved jambs, Moroccan-style lamps, and the use of Moroccan distinctive terracotta color on the walls. If you have a special place for Morocco in your heart, this is the style that suits you best with its different and unique Islamic-Moroccan nuance.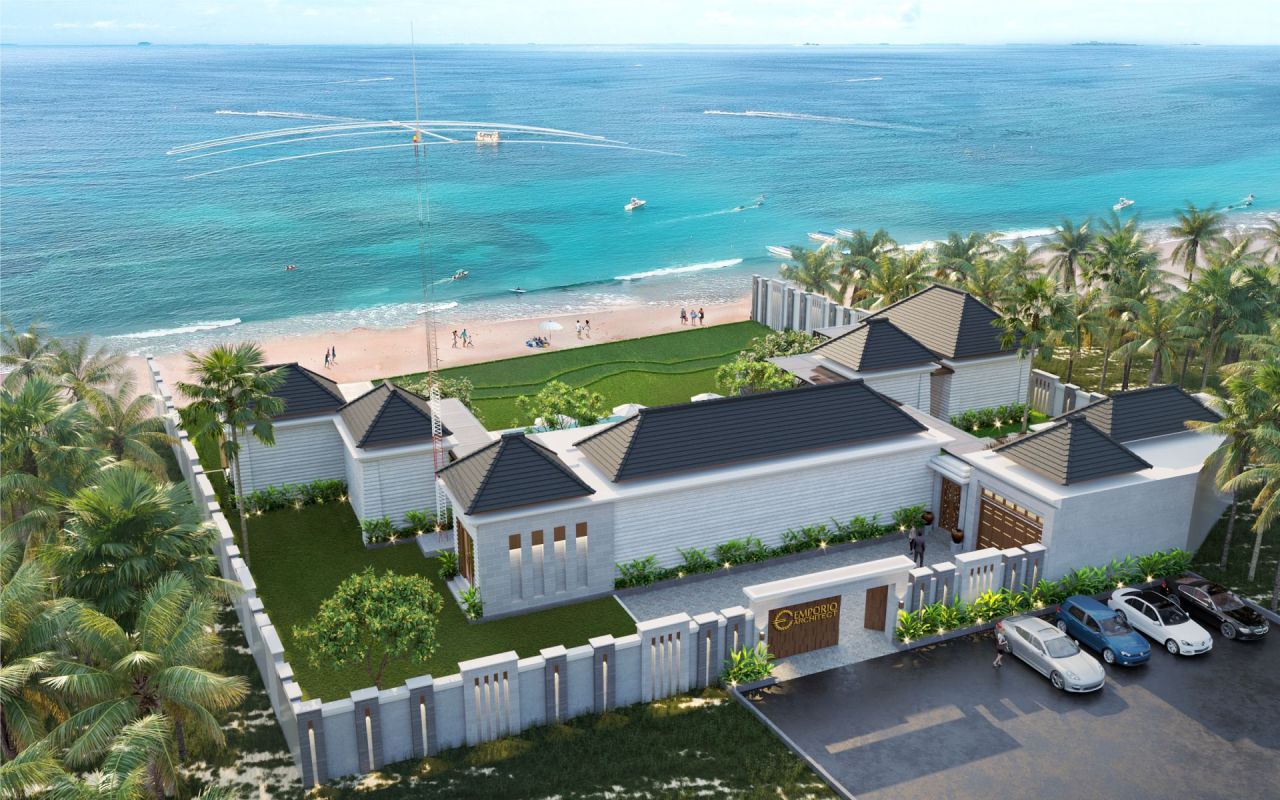 Emporio Architect also has a Scandinavian variation that shows simplicity and functional sides. With its minimalist display, many wide openings, exterior with natural material finishes that have the firm and neat line, cornered roof, and its earthy-tone color that matches the surrounding, making Emporio Architect's version of Scandinavian-style feels aesthetic, luxurious, exclusive, and high-quality.
Another style creation of Emporio Architect also includes Ethnic style that combines local architecture and the tropical vacation nuance. It can be concluded that Emporio Architect is fully capable of granting any style request in accordance with the client's desire and making it even more exclusive with a classy tropical nuance.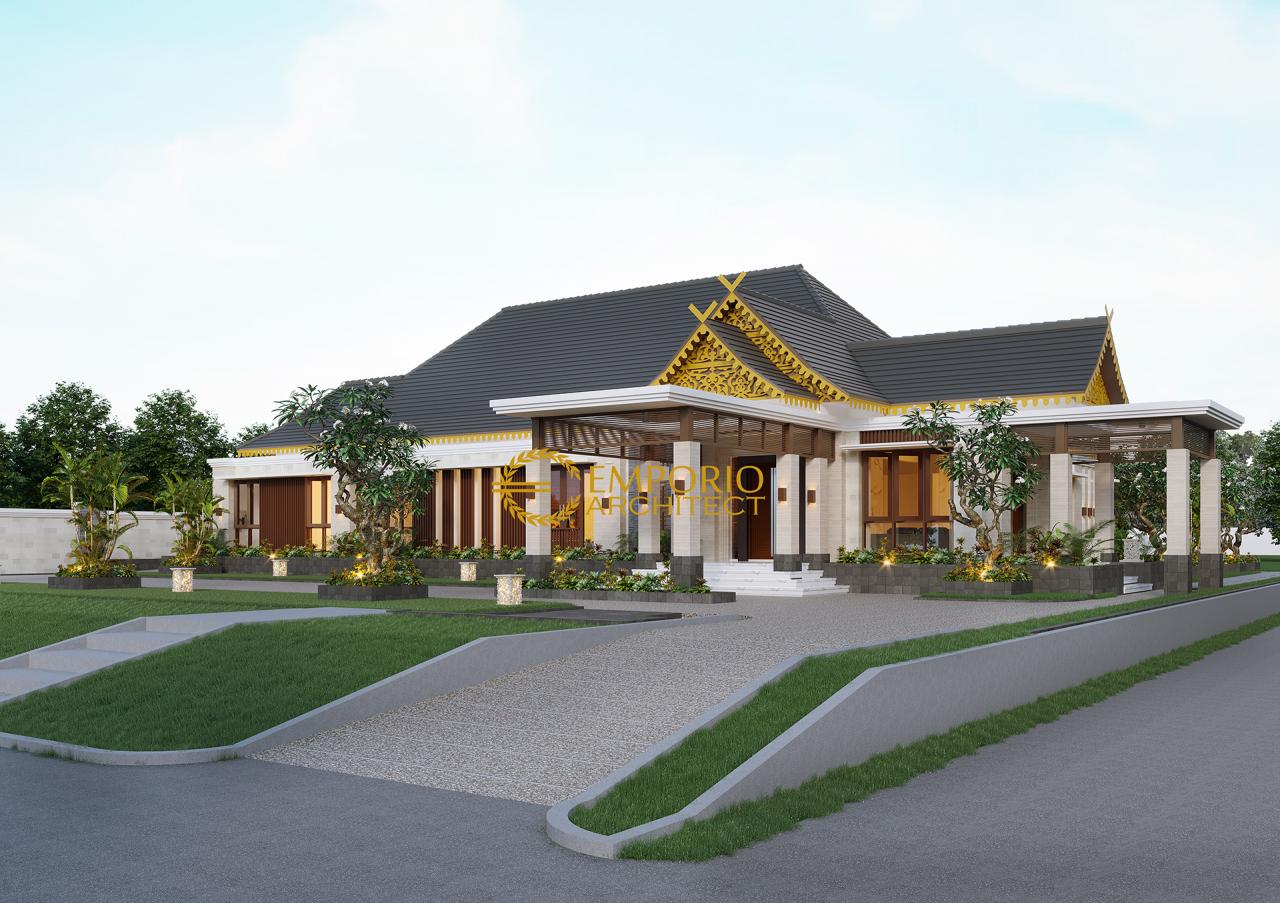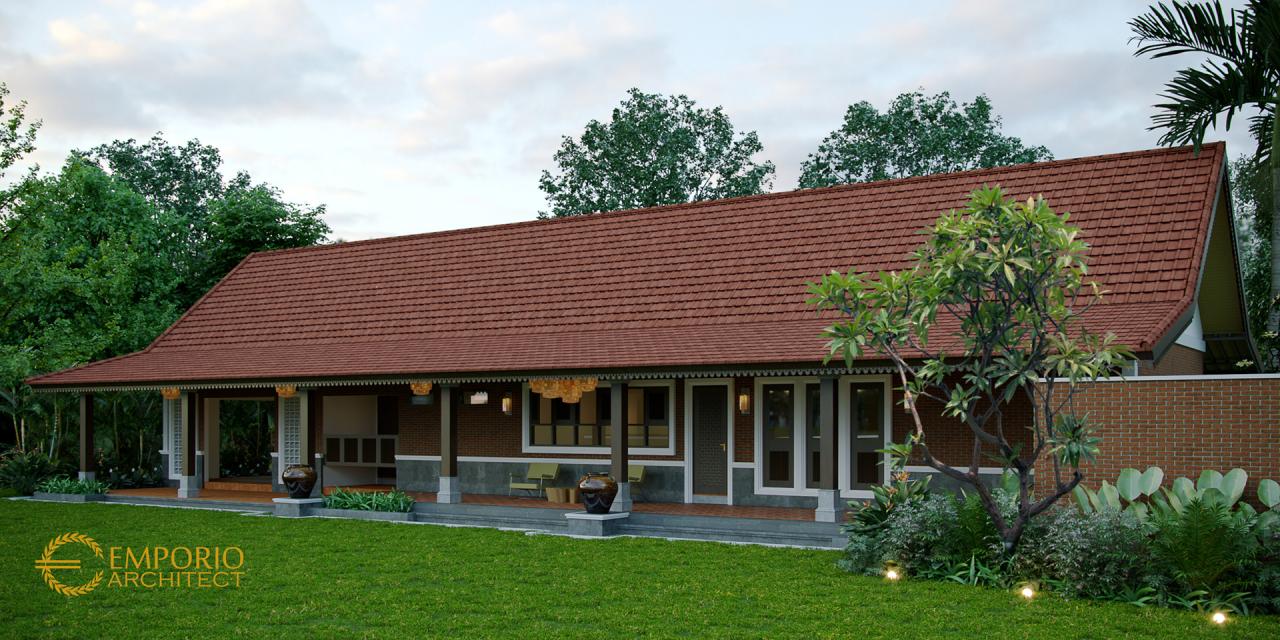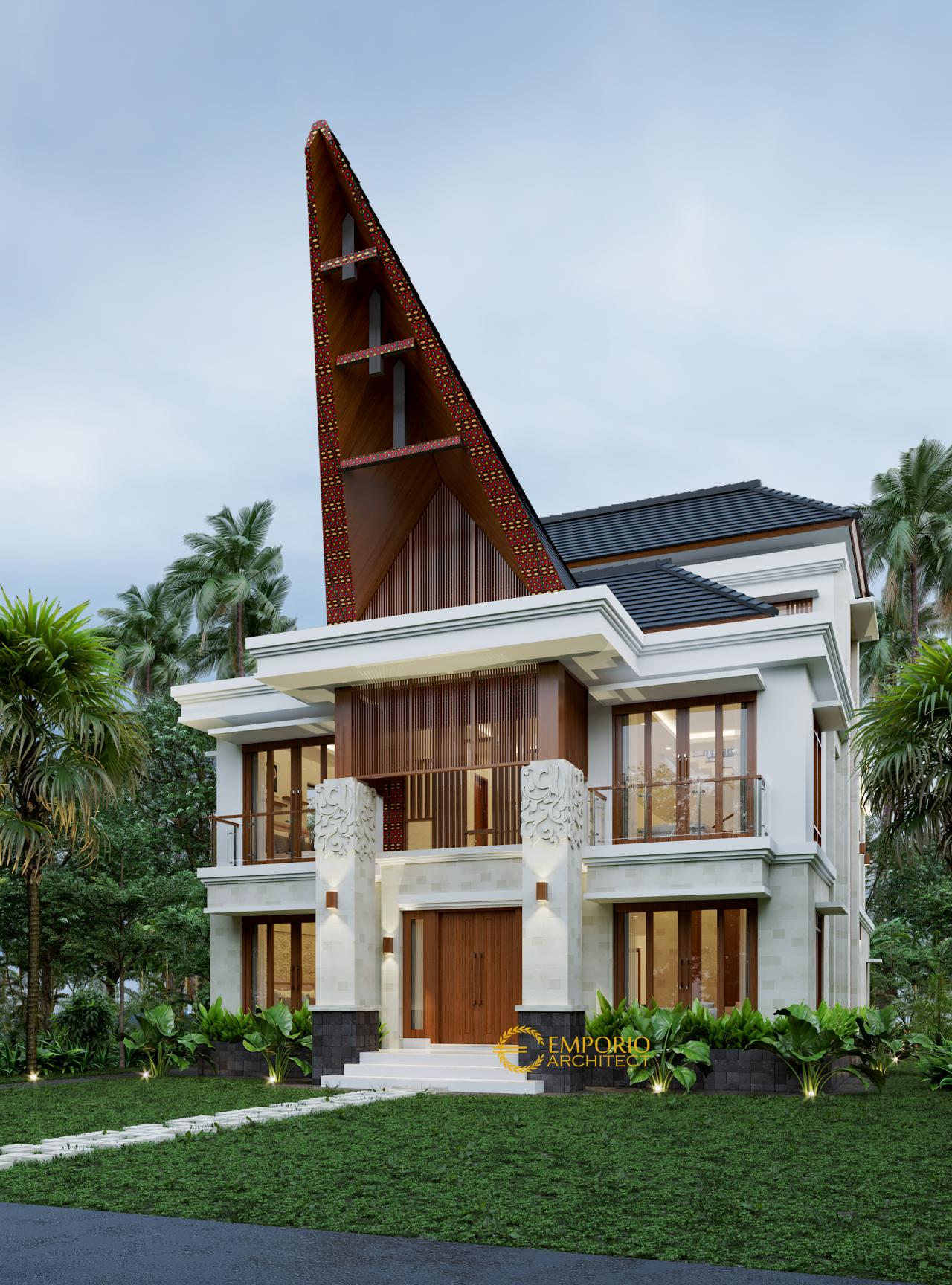 You have now bagged yourself important knowledge regarding the style options you're going to find at Emporio Architect. If you are still undecided about choosing the right style for your future abode, Emporio Architect will now share little tips on how to choose one of these styles that fits your personality and desire most. Here's how.
1. Choose whatever fits your budget
One of the safest ways to decide the perfect style is by adjusting the style itself to your prepared budget. Classic and Mediterranean styles generally consume more budget than modern, Bali-Villa, or any other styles. The primary factor is the complication level and type of materials used.
Classic and Mediterranean styles usually apply more premium natural stone materials, such as travertine, granite, and marble. Those materials are the reasons why classic and Mediterranean styles seem to be more expensive compared to others. If budget is your main concern, try considering other styles that are more affordable, such as modern or Bali-Villa minimalist styles.
2. Match the style to your taste, ideal display, and desired ambiance
You can choose the style of your future home that best suits your taste, ideal display, and ambiance that you desire most, so the façade can truly show your personality. Classic style houses fit better for elegance, luxury, and attractiveness admirers that make the homeowner feel like a member of the royal family. Meanwhile, the Mediterranean style houses are for those who love ornamentations, kingdom-like magnificence, and luxuriousness above anything else that make the homeowner feel proud of owning the house.
Modern style houses suit best for those who want an openly millennial, clean, neat, simple, and luxurious display. Bali-Villa style houses are obviously made for those who want to enjoy life and permanent vacation-like ambiance in a tropical Balinese villa that offers coziness and tranquility. Other architectural styles are only for those who want to show their uniqueness, exclusivity, and affection to a certain country or homeland, which includes American, Scandinavian, Moroccan, Ethnic, or any other styles. Our architects are open to receiving your request for ideas for new styles.
3. Following your local regulations
Although it does not happen in many regions or countries, it's much safer to find information regarding your regional regulations before deciding the style to apply. Factually speaking, not many regions give the freedom to their inhabitants to express and experiment with the façade style. Regions that are located in a cultural tourism area or at an elite residential usually have regulations to ensure all the houses look similar to one another.
Say you have decided on choosing a European, Classic, or Mediterranean style, it would be best if the neighborhood or at least one of them also applied the same style. It's better to be safe than sorry to find out certain regulations to avoid any problems with the neighbors.
4. Maintenance-Friendly
Just like budgeting, you can apply the same technique based on the maintenance frequency. In this case, the modern and Scandinavian styles required lower maintenance expenses in comparison to other architectural styles, such as Bali-Villa, classic, Mediterranean, and so on. The maintenance fee is based on the design difficulty, the ornamentations, and the materials used as the building's finishes.
Houses that are dominated by wood, sandstone, Palimanan, and similar natural stones on the exterior, need regular maintenance in order to keep the façade clean without any fungus, mildew, termites, and other unwanted conditions. Houses that have many ornaments, as well as wall and ceiling reliefs, make the maintenance process even more complicated and difficult. Modern style houses are easier for maintenance because it has more glass materials and a simpler façade. If your heart is set on either classic, Mediterranean, Bali-Villa, or other styles, consider choosing the minimalist version for easier maintenance.
Those are a few definitions, styles, and tips regarding Emporio Architect's house styles that can be chosen from. If the decision of the perfect style for your future dream home is final, it's now time to reach a professional architect like Emporio Architect to make your dream home come to a realization.
AUTHOR
Adam Fonsecha S.S.
Born and raised in Bali, Indonesia, does not limit his passion for learning other languages and desire to reach multiple continents through his writing. Writing articles has been his journey since graduating as it connects him with many people locally and globally. Also, nothing beats the feeling of readers taking an interest in a product that has been literately created into a future promise.
If you have any questions, please consult with us.
ALSO READ:
INTERIOR DESIGN: