The following are costs / prices / fees for architectural services for the design of a luxury villa complex or an exclusive building with a very high level of complexity or difficulty, including guest houses, bungalows, housing, apartments, spas, restaurants, government offices, offices, exclusive offices, shopping centers. , malls, modern markets, exhibition halls, schools, galleries, museums, campuses, mosques, churches, palaces, embassies, offices of state high institutions, etc.
The following is a complete discussion:
A. FEE / PRICE OF BUILDING ARCHITECT SERVICES
| | |
| --- | --- |
| BUILDING AREA | FEE DESIGN (USD) |
| 0-300 m2 | $8,000 |
| >300 m2 | $32 / m2 |
FEE DESIGN MASTER PLAN (USD)
$2 / m2 SITE
FEE DESIGN GATE (USD)
$1,600
FEE COPY DESIGN
1-5 Unit =

10%

/ Unit
5-10 Unit =

5%

/ Unit
>10 Unit =

2,5%

/ Unit
*Architect fees listed on this website page are subject to change at any time, and if you have a different fee offer or negotiation, you can submit a bid proposal to us via info@emporioarchitect.com. We will study the requirements requested, analyze what teams will be involved and the level of difficulty, then provide initial information to you in a maximum of 24 hours and a maximum of 7 working days.
B. STAGES OF ORDERING BUILDING ARCHITECT SERVICES
B.1. CONSULTATION STAGE
The client provides design plan information including the required data in the form of land size / dimensions, a list of building and space requirements, as well as additional services desired, or can have a direct meeting at our office by making an appointment in advance).
Once we have received enough of the necessary data. We send a fee application based on the level of difficulty, the estimated planned building area, complete drawings, additional services required by the Client, what team is involved. Fee submission includes information on fees, what is included and is not included, stages and methods of payment, specific agreements, etc.
B.2. PAYMENT STAGE
B.2.1. FIRST STAGE PAYMENT
If the Client agrees to the proposed fee, then the Client will then make Phase I payments of 30% of the total design fee via transfer for the following purposes:
Survey and site assessment
Consulting Services and Spatial Planning
Style & Consulting Services Ornaments
Concept Master Plan Making Services (For Residences / Housing Complexes, Shopping Complexes, Villa Complexes, or Resort Complexes)
Drafting service for each Building Unit
B.2.2. SECOND STAGE PAYMENT
The client makes Phase II payments of 50% of the total design cost for manufacturing:
Building 3D Modeling
3D rendering exterior
B.2.3. THIRD STAGE PAYMENT
The client makes Stage III Payment / Repayment of 20% of the total design cost for manufacture:
Creating 3D Interior Visual Rendering Images for Each Room
Final 3DMAX Exterior & Interior for certain spots
3D Exterior & Interior
Creating Technical Drawing
Creating Architectural RAB
Submission of design results. The design results are in the form of bound A3 print outs and softcopy on Flash Disk.
If all the files according to the offer have been received by the Client, the Design stage is declared complete and the Client is ready to make a tender or use the contractor services of your choice.
C. COMPLETE ARCHITECTURAL DRAWING
C.1. FIRST STAGE COMPLETION
C.1.1. 2D Plan Concept (2 Dimensions)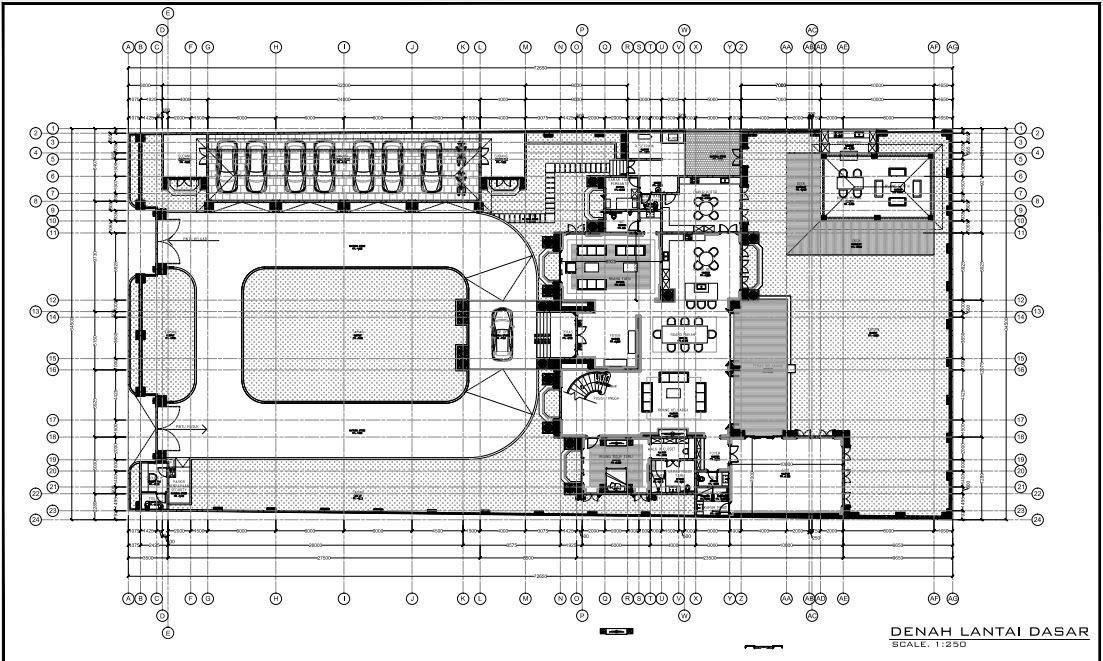 C.2. COMPLETION OF THE SECOND STAGE
C.2.1. 3D Modeling Concept (3 Dimensions)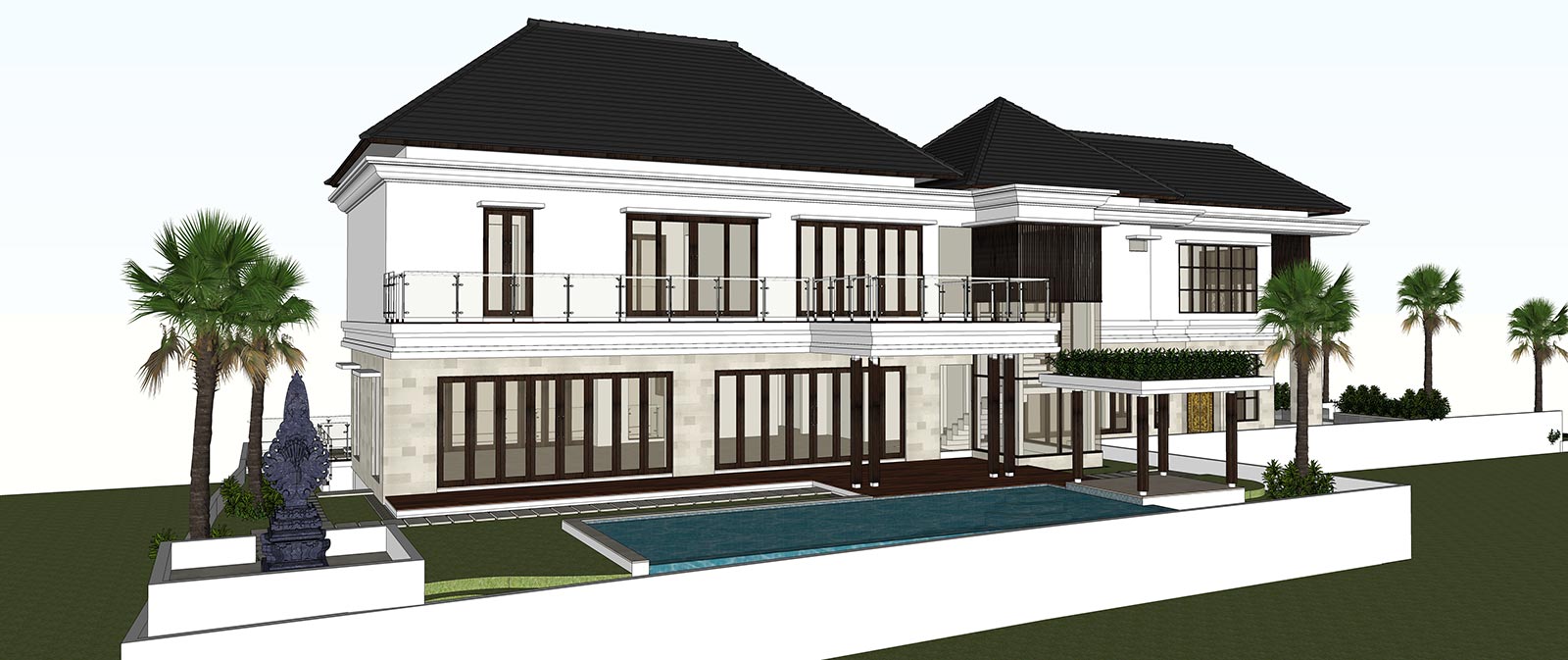 C.3. COMPLETION OF THIRD STAGE
C.3.1. Fine Render Visual Images (Visual Final)
0-500 m2: get 3 fine rendering views (2 exterior & 1 interior)
501-1000 m2: get 5 fine rendering views (3 exterior & 2 interior)
C.3.2. 3D Exterior & 3D Interior Video duration +- 2 minutes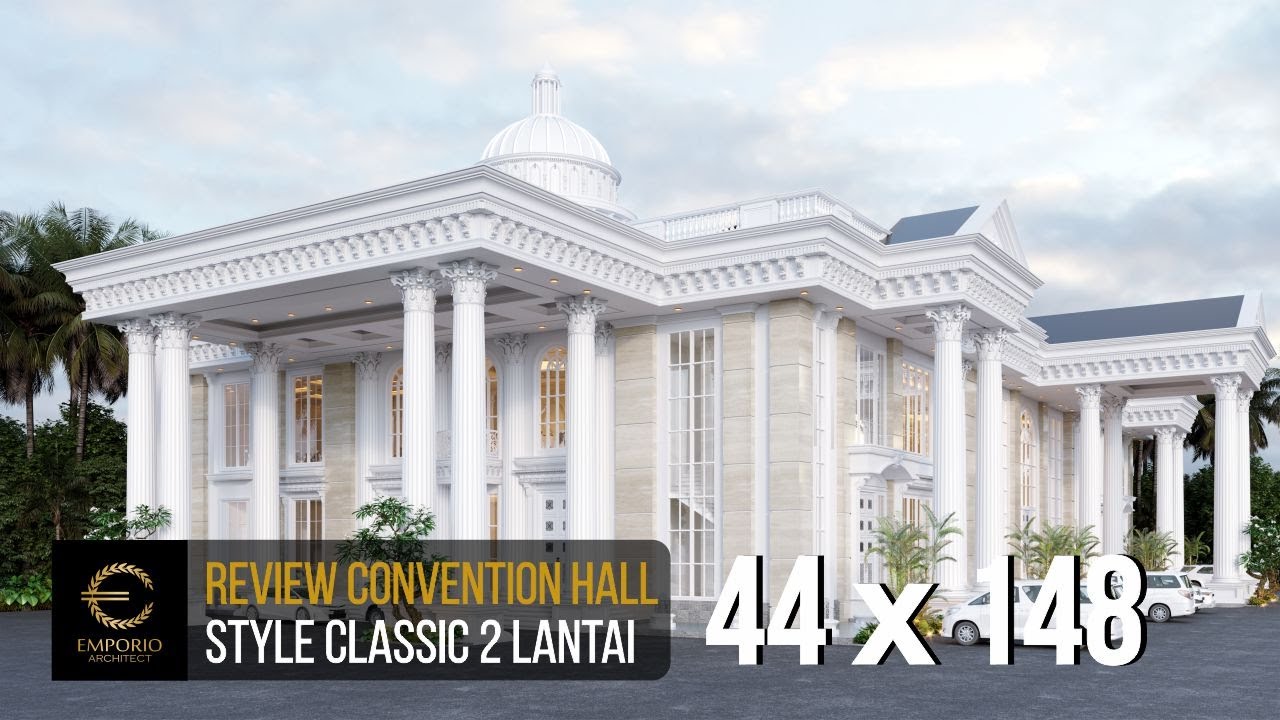 C.3.3. BOQ (Bill of Quantity) Emporio Architect standard building
C.3.4. Architectural Technical Drawing, Structure & Electrical Plumbing
TECHNICAL DRAWING ARCHITECTURE
Ground Floor Plan
1st Floor Plan
2nd Floor Plan, etc.
Roof Plan
Front Elevation
Side Elevation (A)
Side Elevation (B)
Back Elevation
Section A-A
Section B-B
Section C-C
Section D-D
Door & Window Plan (Ground Floor Plan)
Door & Window Plan (Lantai Satu)
Door & Window Plan (Lantai Dua), etc.
Door & Window Plan (Denah Atap)
Door & Window Details (Plan, Elevation, Section)
Ceilling Plan (Ground Floor Plan)
Ceilling Plan (1st Floor Plan)
Ceilling Plan (2nd Floor Plan), etc.
Floor Pattern Plan (Ground Floor Plan)
Floor Pattern Plan (1st Floor Plan)
Floor Pattern Plan (2nd Floor Plan), etc.
Master Bathroom Plan
Master Bathroom Detail (Section A-A)
Master Bathroom Detail (Section B-B)
Master Bathroom Detail (Section C-C)
Master Bathroom Detail (Section D-D)
Stair Plan 1,2,3, etc.
Stair Detail 1,2,3, etc.
Gate Detail
TECHNICAL DRAWING ELECTRICAL & PLUMBING
Electrical Instalation Plan (Lamp & Switch) Ground Floor Plan
Electrical Instalation Plan (Lamp & Switch) 1st Floor Plan
Electrical Instalation Plan (Lamp & Switch) 2nd Floor Plan, etc.
Electrical Instalation Plan (Plug & Air Conditioner) Ground Floor Plan
Electrical Instalation Plan (Plug & Air Conditioner) 1st Floor Plan
Electrical Instalation Plan (Plug & Air Conditioner) 2nd Floor Plan, etc.
Electrical Instalation Plan (Plug & Air Conditioner) Roof Plan
Lightning Rod Plan
Lightning Rod Detail
Clean Water & Hot Water Pipe Instalation Plan (Ground Floor Plan)
Clean Water & Hot Water Pipe Instalation Plan (1st Floor Plan)
Clean Water & Hot Water Pipe Instalation Plan (2nd Floor Plan), etc.
Clean Water & Hot Water Pipe Instalation Plan (Roof Plan)
Dirty Water, Waste Water & Rain Water Pipe Instalation (Ground Floor Plan)
Dirty Water, Waste Water & Rain Water Pipe Instalation (1st Floor Plan)
Dirty Water, Waste Water & Rain Water Pipe Instalation (2nd Floor Plan), etc.
Dirty Water, Waste Water & Rain Water Pipe Instalation (Roof Plan)
Septictank/Biotank Detail
Control Box & Biopore Detail
Ground Tank Detail
TECHNICAL DRAWING STRUCTURE
Footplat Foundation Plan / Borepile Foundation Plan
River Stone Foundation Plan
Tie Beam & Column Plan (Ground Floor)
Beam & Column Plan (1 St Floor)
Beam & Column Plan (2 Rd Floor)
Ring Beam
Slab Steel Reinforcement Plan (Ground Floor)
Slab Steel Reinforcement Plan (1 St Floor)
Slab Steel Reinforcement Plan (2 Rd Floor)
Slab Steel Reinforcement Plan (Roof Floor)
Portal Grid X (1 portal Section X)
Portal Grid Y (1 portal Section Y)
Footplat Foundation Details / Borepile Foundation Details
River Stone Foundation Details
Column Steel Reinforcement Details
Tie Beam Steel Reinforcement Details
Beam Steel Reinforcement Details
Roof Truss Steel Structure IWF (wood / C steel design by vendor)
Stairs Plan and Stairs Section
Swimming Pool Plan and Stairs Section
Ponds Plan and Stairs Section
Items not included (Directed to Third Party Services):
Licensing & BOQ Creation
Land Topography Measurement Services
Soil Sondir Test
Structural Consultants
Electrical Plumbing Consultants
BEST HOUSE DESIGN: