Updated on 1 January 2021
House Design Service Costs are the costs required to serve all forms of process in designing residential designs starting from analysis of size, area and shape of land, analysis of space requirements, analysis of building and space cardinal directions, analysis of light and air circulation, making building plans, spatial plans, layout layout plans for furniture zones, 3D image of buildings, rendering of render images, to manufacturing architectural, structural, mechanical, electrical and plumbing technical drawings.
WHAT WILL YOU GET?
Luxuriously Elegant Display
Uninterrupted Circulation
Implementation Guaranteed
Architectural Technical Drawing
Plumbing-Electrical Technical Drawing
Structural Technical Drawing
Fine Render Visualization (Interior)
Fine Render Visualization (Exterior)
Free Exterior & Interior 3D Video
Design A3 Printout & Soft Copy
Design Coordination Service During Construction
EXTRA SERVICES:
Field Supervisor Services
Feng Shui Consulting Services
Why should you use the services of a professional architect? Please find the answer here : Why Do You Need Architectural Services?
Below is information about the price / cost / fee for house design architect services, the procedure for ordering the architect services, and a description of images and services that are included in the price.
The following is a complete discussion:
A. FEES / PRICES OF HOUSE DESIGN SERVICES
A.1. Small & Medium Size Building
Building Area

House Design Fee (USD)

0-250

m2
$5,600

251-300

m2
$6,400

301-350

m2
$7,200

351-400

m2
$8,000

401-450

m2
$8,800

451-500

m2
$9,600
A.2. Big Size Building
Building Area

House Design Fee (USD)

501-600

m2
$13,200

601-700

m2
$15,600

701-800

m2
$18,000

801-900

m2
$20,400

901-1000

m2
$22,800
A.3. Extra Big Size Building
Building Area

House Design Fee (USD)

>

1000

m2
$24 / m2
*To get a fee proposal from our Architect, please fill in the following format: Form Order or send data via Whatsapp. Then if the data is complete, a price proposal will be made complete with a concept plan sketch within 1-7 working days. If needed, Architects and Clients can conduct initial online meetings.
B. STAGES OF ORDERING ARCHITECTS FOR HOUSE DESIGN SERVICES
B.1. CONSULTATION STAGE
The client provides the required data in the form of:
Land Location
Land Size
Your preferred House Style
Development Budget Plan
Details of space requirements. Example:
1 Floor
2 Floors

1 Master Bed
1 Main Bath
1 Walk in the Main Closet
2 Outdoor Baths
1 K Assistant
1 Maid Bath
1 Guest Room
2 Family Room
1 Dining Room
1 Dry Kitchen
1 Wet Kitchen
1 Warehouse
1 Laundry Room & Dry in the sun
4 Car Garage
Carport 2 Cars
Swimming Pool

3 Children's Beds + Ensuite Bath
1 Guest Bed
1 Outdoor Bath
1 Learning Room
1 Workspace
1 Holy Room / Mushola
1 Movie Room
1 Karaoke Room
1 Fitnes / Gym Room
1 Rooftop + Gazebo
Front Balcony
Rear Balcony
The Architect Team will provide a sketch plan and a design cost quote based on the estimated building area required.
B.2. PAYMENT STAGE
B.2.1. FIRST STAGE PAYMENT
The client makes Phase I payments of 30% of the total design cost for Floor Plan. The plan is the most important concept in a building design because this plan will be the main reference for making 3D and technical drawings. Especially at this stage, plan revisions are welcome and max 3x revision. After the floor plan concept is approved, the next step is to create a 3D Image (enter stage 2).
B.2.2. SECOND STAGE PAYMENT
The client makes Phase II payments of 50% of the total design cost for manufacture:
a. 3D (three-dimensional) image of buildings determines building height, building shape, and building style.
b. 3D Exterior Render Image (not as clear as the final render), where the client will create 10-50 building views to present the appearance of the building and the building's exterior atmosphere.

Three-dimensional image and three-dimensional rendering images are very important in spatial planning. With 3D technology, clients who are unfamiliar with building technicalities will have a better understanding of the shape of the building both exterior and interior, so as to avoid misunderstanding between clients, architects, and contractors. At this stage, if the building does not match the shape yet, the Client can only revise the appearance.
B.2.3. THIRD STAGE PAYMENT
The client makes Stage III Payment / Repayment of 20% of the total design cost for manufacture:
Fine Render Visual Images (Visual Final):

Exterior
Interior

Working drawings / technical drawings required by the implementation team / contractor / contractor as a reference in the construction process:

Architectural technical drawings
Technical drawings of structures (foundation, refinement etc.)
Technical drawings of Electrical and Plumbing).

The final files that will be given are:

2 Volume Print Out A3 Technical Drawing / Working Drawing.
1 Flash Disk with softcopy of agreed files.

At this stage, no more revisions are allowed. If all the files according to the offer have been received by the Client, the Design stage is declared complete and the Client is ready to make a tender or use the contractor services of your choice.
C. COMPLETE ITEMS OBTAINED
C.1. FIRST STAGE COMPLETENESS
C.1.1. 2D Plan Concept (2 Dimensions)
2D Plan Concept Example
C.2. COMPLETION OF THE SECOND STAGE
C.2.1. 3D Image Concept (3 Dimensions)
3D Image Concept Example
C.3. COMPLETION OF THIRD STAGE
C.3.1. Fine Render Visual Images (Visual Final)
0-500 m2: get 3 fine rendering views (2 exterior & 1 interior)
501-1000 m2: get 5 fine rendering views (3 exterior & 2 interior)
C.3.2. BOQ (Bill of Quantity) Emporio Architect standard building
C.3.3. Architectural, Structure & Technical Drawing Electrical Plumbing
Bonus 3D Video Exterior & 3D Interior when the drawing is finished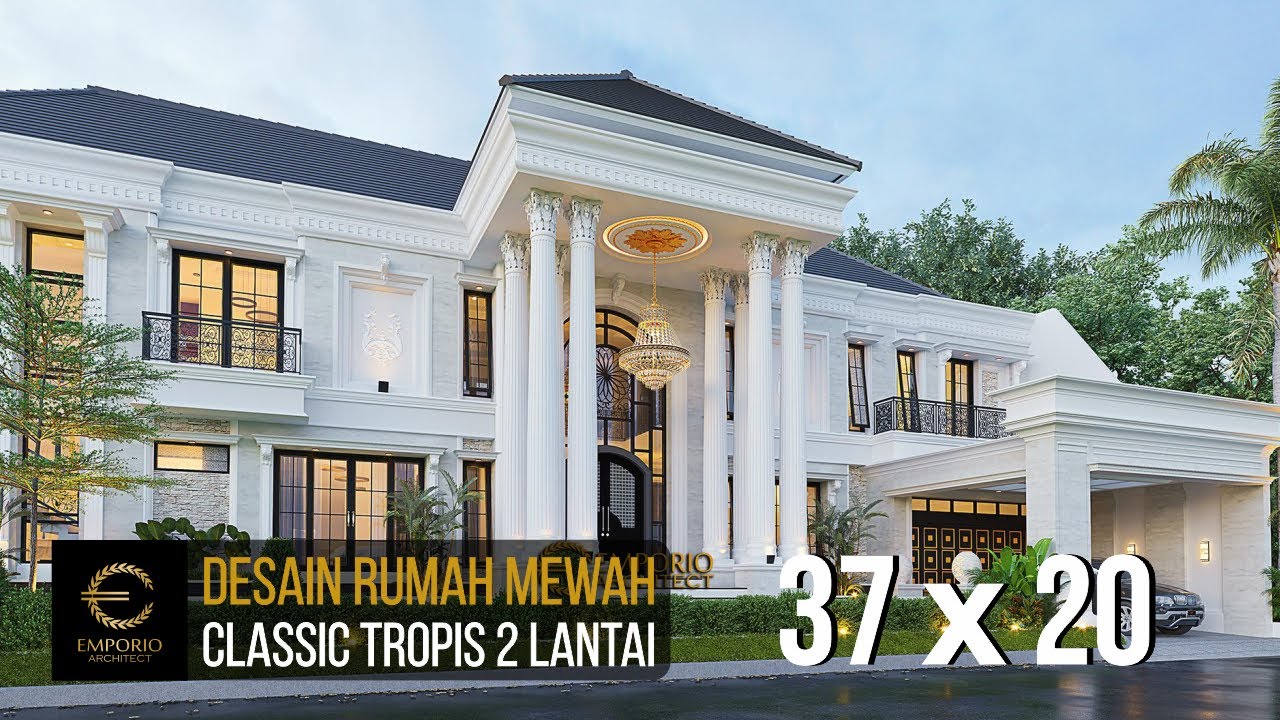 TECHNICAL DRAWING COMPLETENESS
TECHNICAL DRAWING ARCHITECTURE
Ground Floor Plan
1st Floor Plan
2nd Floor Plan, etc.
Roof Plan
Front Elevation
Side Elevation (A)
Side Elevation (B)
Back Elevation
Section A-A
Section B-B
Section C-C
Section D-D
Door & Window Plan (Ground Floor Plan)
Door & Window Plan (1st Floor Plan)
Door & Window Plan (2nd Floor Plan), etc.
Door & Window Plan (Roof Plan)
Door & Window Details (Plan, Elevation, Section)
Ceilling Plan (Ground Floor Plan)
Ceilling Plan (1st Floor Plan)
Ceilling Plan (2nd Floor Plan), etc.
Floor Pattern Plan (Ground Floor Plan)
Floor Pattern Plan (1st Floor Plan)
Floor Pattern Plan (2nd Floor Plan), etc.
Master Bathroom Plan
Master Bathroom Detail (Section A-A)
Master Bathroom Detail (Section B-B)
Master Bathroom Detail (Section C-C)
Master Bathroom Detail (Section D-D)
Stair Plan 1,2,3, etc.
Stair Detail 1,2,3, etc.
Gate Detail
TECHNICAL DRAWING ELECTRICAL & PLUMBING
Electrical Instalation Plan (Lamp & Switch) Ground Floor Plan
Electrical Instalation Plan (Lamp & Switch) 1st Floor Plan
Electrical Instalation Plan (Lamp & Switch) 2nd Floor Plan, etc.
Electrical Instalation Plan (Plug & Air Conditioner) Ground Floor Plan
Electrical Instalation Plan (Plug & Air Conditioner) 1st Floor Plan
Electrical Instalation Plan (Plug & Air Conditioner) 2nd Floor Plan, etc.
Electrical Instalation Plan (Plug & Air Conditioner) Roof Plan
Lightning Rod Plan
Lightning Rod Detail
Clean Water & Hot Water Pipe Instalation Plan (Ground Floor Plan)
Clean Water & Hot Water Pipe Instalation Plan (1st Floor Plan)
Clean Water & Hot Water Pipe Instalation Plan (2nd Floor Plan), etc.
Clean Water & Hot Water Pipe Instalation Plan (Roof Plan)
Dirty Water, Waste Water & Rain Water Pipe Instalation (Ground Floor Plan)
Dirty Water, Waste Water & Rain Water Pipe Instalation (1st Floor Plan)
Dirty Water, Waste Water & Rain Water Pipe Instalation (2nd Floor Plan), etc.
Dirty Water, Waste Water & Rain Water Pipe Instalation (Roof Plan)
Septictank/Biotank Detail
Control Box & Biopore Detail
Ground Tank Detail
TECHNICAL DRAWING STRUCTURE
Footplat Foundation Plan / Borepile Foundation Plan
River Stone Foundation Plan
Tie Beam & Column Plan (Ground Floor)
Beam & Column Plan (1st Floor Plan)
Beam & Column Plan (2nd Floor Plan)
Ring Beam
Slab Steel Reinforcement Plan (Ground Floor)
Slab Steel Reinforcement Plan (1st Floor Plan)
Slab Steel Reinforcement Plan (2nd Floor Plan)
Slab Steel Reinforcement Plan (Roof Floor)
Portal Grid X (1 portal Section X)
Portal Grid Y (1 portal Section Y)
Footplat Foundation Details / Borepile Foundation Details
River Stone Foundation Details
Column Steel Reinforcement Details
Tie Beam Steel Reinforcement Details
Beam Steel Reinforcement Details
Roof Truss Steel Structure IWF (wood / C steel design by vendor)
Stairs Plan and Stairs Section
Swimming Pool Plan and Stairs Section
Ponds Plan and Stairs Section
Items not included (Directed to Third Party Services):
Land Investigation / Surveyor Services (Measurement, Sondir, Boring, Land Geoelectricity)
Licensing & BOQ Creation
Detailed Interior Design (Unless Picking Package Design)
Feng Shui / Hong Shui Consulting Services
VIDEO CONSTRUCTION RESULTS
F.A.Q. (Frequently Asked Questions)